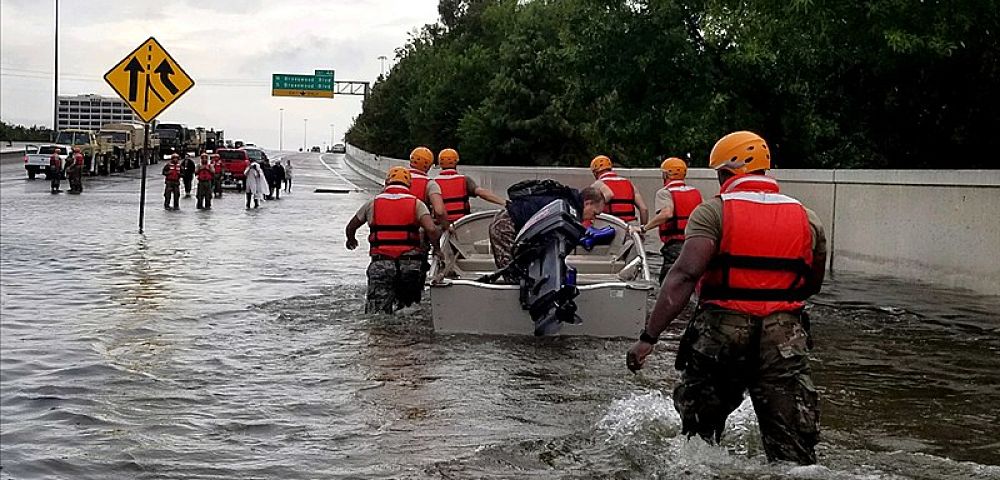 One year on from Hurricane Harvey – and as the true scale of the mess left by Hurricane Florence emerges in the Carolinas – the cleanup work in Houston still continues. And workers still digging out from the mess are fearful that they may not get paid.
"As a community, we have stepped up. We have restored people's homes and restored their lives," the Houston mayor Sylvester Turner told a crowd at a barbecue marking the first anniversary of Hurricane Harvey last month. Across town at the historically black Texas Southern University, activists paint a less rosy picture of recovery.
At a meeting convened under the title "The People's Tribunal on Hurricane Harvey," Claudia, a middle-aged undocumented immigrant from Colombia struggling to pay her children's college tuitions back home, told the crowd of working for a contractor on a hurricane cleanup project for a week, only to find that the contractor had disappeared when it came time to get paid.
"It's sad because we all count on our weekly pay to survive," Claudia said as she struggled to hold back tears and described facing the threat of eviction because she couldn't pay her rent. "I've seen it happen frequently. Many of my co-workers are fearful that another contractor will come and do the same thing to them."
According to a survey conducted last year by the University of Illinois at Chicago, approximately 75% of all day laborers have reported wage theft. Even worse, 61% of day laborers said that they received no respiratory devices to protect themselves against the many molds and bacterias that workers face on the job, and 85% of day laborers say they received no health and safety training.
While the hurricane recovery has been marred by abuses of workers' rights, activists hope that they can use the sense of solidarity created by the recovery to foster a dialogue about the treatment of workers in Houston.
"When any devastation happens, it's a time to reevaluate how we are doing things," said Sylvia Chicas, an organizer with the Fe y Justicia Worker Center in Houston. "In a way, it's an opportunity for our city to start thinking about are we rebuilding in an equitable way, to bring workers into this conversation in a way that they have traditionally been excluded."
On a recent Thursday night after work, two dozen Latino laborers gathered for snacks and a health and safety training class on their rights as workers in a large converted dining room in the small brick duplex that houses the worker center.
Pointing to symbols on Occupational Safety and Health Administration (Osha) training cards printed in Spanish, Alejandro Zuniga, a 46-year-old organizer with the center, instructed workers how to determine which symbols stand for what chemicals.
Drawing on his own experiences, Zuniga told the group how he nearly died a decade ago after being exposed to carbon monoxide poisoning in a school. Zuniga spent months in the hospital afterward and was semi-homeless because of the ensuing medical debt.
Zuniga and the workers discussed the best methods to confront their bosses and how to call the authorities if their informal advocacy fails. Many immigrant workers are hesitant to do so, but Zuniga implores them to in order to avoid the financial crisis he faced after he got sick on his job.
"Each one of us has suffered or will suffer labor abuses in our lives," said Zuniga. "Many of us stay quiet for a lack of immigration documentations and because [we] have no other options. It's time for us to develop our consciousness because [workers' rights] is everybody's fight."
Since the hurricane, Zuniga and the center have trained more than 1,400 day laborers in classes just like this, dramatically more workers than they had been able to reach in years past.
Not only has the center used the hurricane to dramatically increase their health and safety training, but it has also seen an uptick in the number of workers coming forward to report instances of wage theft.
Since February, when the center re-opened its legal clinic, it has received more than 170 complaints from workers for wages totaling in excess of $557,000. The training appears to be paying off as more workers are starting to come forward prepared to take action.
"It's been really inspiring," said Marianela Acuña-Arreaza, the 29-year-old executive director of Fe y Justicia Worker Center, who came to the US as an undocumented immigrant from Venezuela when she was 18 years old.
The organizing is also starting to have a serious effect on the way wage theft law is enforced in Houston.
Last week, for the first time, the Harris county district attorney office, working closely with the center, filed a criminal theft of services charge against a homeowner, Sonny D Nicholas, who refused to pay a group of workers more than $2,300 for work done on his home.
If convicted, Nicholas could face up to a year in jail.
"This is about treating people decently and obeying the law," said the Harris county district attorney Kim Ogg. "We follow the evidence, and we are not going to let employers rip off contractors, just as we won't let contractors steal from the public."
Mayor Turner has pledged to use his legal authority to deny city contracts to those who violate workers' contracts.
"We are saying to those who are taking people's wages that you cannot do business with the city of Houston," said Turner in an interview with the Guardian.
However, the center says that not enough is being done and that the city does not have the staff to properly enforce wage theft laws. An analysis done by the Dallas Morning News in conjunction with Reveal showed that the Texas Workforce Commission has only 19 investigators to handle an average of more than 13,000 cases a year, meaning that each investigator is assigned to close to roughly 684 complaints annually.
That analysis also found that workers only received their state-mandated awards half of the time.
Activists say that inaction by the Trump administration has allowed many contractors to get away with wage theft without fear of losing federal contracts.
"These federal agencies say they are helping us when in reality, when they use this system, the only thing they are doing is jeopardizing us, our communities and our families," said Zuniga.
Houston activists know that they have an uphill battle to take on the scourge of workers rights abuses in the wake of Hurricane Harvey, but they also say that the storm unleashed something else: a mobilized mass of workers seeking change.
Hurricane Harvey created a workers' rights crisis in Houston, but workers and advocates in Houston say they are taking advantage of this opportunity to build new power.
"Following Harvey, it seems that the infrastructure for workers justice has been growing exponentially," said center executive director Acuña-Arreaza. "In many ways, this has been a turning point for us as movement in Houston."
"We are building a network of people who are learning how to access workplace justice and that's powerful," she said.
Translation and research provided by Christine Bolaños