​A Whirl Around the Crypto World: EOS, Litecoin, Bitcoin Cash, Ethereum
MoneyShow Follow |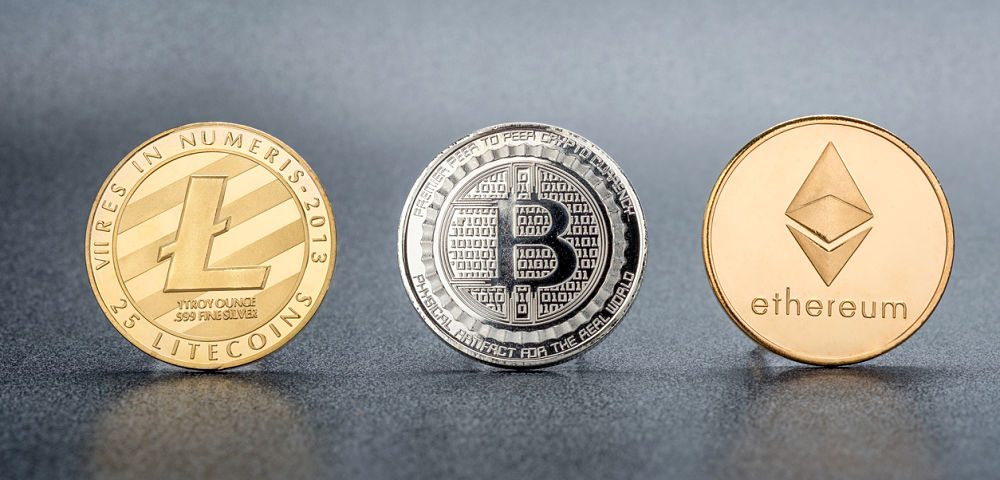 Nell Sloane of Capital Trading Group summarizes a dozen cryptocurrency developments you should know about this week: EOS, litecoin, bitcoin cash, DApp, ethereum, Ripple and more. The CryptoCorner Index settled at $3304.42 +$294.96 or 9.8% for the week.
Hey CryptoCorner fans, we have a lot to get into, so let's have at it shall we.
We are happy to report the cryptocurrency space continues to rocket higher off its lows.
A few letters back we spoke of the large base forming in ethereum (ETHUSD) and how long‐term players should be willing and able buyers at those cheap levels between $275 and $375.
Ethereum hit $350 and has rallied up to $711 a 77% rise off its lows.
We would like to point out that the $711 level is the 61.8% Fib retracement, and long‐time readers know our dedication to the Fibs.
We expect the $495 level to offer better support on the way down and expect the $700 area to offer keen resistance for now, but the low seems to be in for now and a new trading range emerging.
***
Ethereum killer: Moving along and to what some have called in the past the "ethereum killer" none other than EOS, which is a platform for building DApps or Decentralized applications.
Most mainstream traditional app builders are backend code running on centralized servers, where a DApp has backend code running on a decentralized peer‐to‐peer network.
We wrote about EOS last year and have made it our focus to add it to our CC Index, which we are proud to announce its addition as of this week.
If you want to read up more on EOS and see if it is right for your crypto portfolio you can find some resources, here, here and here We feel EOS has huge potential, but it's still trying to find a base.
***
Volatile EOS week: It's super volatile which is expected as a crypto, but just for some context, after hitting a low just under $4 in mid‐March, it hit $16 this week! We would like to see continued consolidation above the $10 mark and accumulate positions just under that area. Here's the chart:
Bitcoin cash: Continuing with the positive moves this week, bitcoin cash had a huge week up over 51% and was the obvious standout.
Word on the street for its meteoric rise has to do with the miners burning BCH coins.
Most of our long-time readers know our disdain for bitcoin cash as the annoying bitcoin little brother. But we aren't stupid and recognize it's still a viable crypto. Creator Roger Ver is often found ranting on about bitcoin and its inferiority to bitcoin cash. We will let our readers decide.
So this week we find the rise correlated to the announcement by bitmain's Antpool that it was burning 12% of the coins it earned while mining.
***
Speaking of bitcoin, it had a modest week up 8% but we have to say the run off the lows has been impressive as this chart shows. Bitcoin is up 46%!
This move shouldn't come as a surprise to long-time core crypto and bitcoin advocates.
Bitcoin was a rare model of modesty this week, only up 8% as the coins we now track on average rose around 28%. That marks two solid weekly gains in a row, enough to beat the leveraged sellers into submission for now.
We would rather see some stead y consolidation set in here as opposed to 20% average moves. This is still a new and budding asset class and investors should realize the actual volatility is much larger than normal and your investing style and stamina must accommodate such activity.
Here are the settlements for the week ending April 20.
Please notice that we are now tracking 10 cryptocurrencies in all with the newest addition EOS at the bottom of the chart which settled at $11.08, up $2.13 and 23.8% on the week.
We are glad to include them in our CryptoCorner Index and we have distributed their weighting in a proprietary fashion in the index.
***
The CryptoCorner Index settled at $3304.42 +$294.96 or 9.8% for the week. The index is doing its job as intended, which the goal is to smooth out the volatile currency moves by allocating across a multitude of currencies.
Moving to other news in the space, BNC had a great article on Amazon entering the new and exciting space known as (Baas) or blockchain as a service.
We know full well the potential of Amazon and their endless endeavor to take over anything and everything.
We saw the writing on the wall as they look to become the one stop human shop for everything, hell one day even the AI will only have Amazon to buy from, yikes let's not think that far ahead!
Anyway, without reading the whole article which you can find here, Amazon is getting into Baas with blockchain templates for Ethereum and Hyperledger Fabric for their Amazon Web Services.
We continue to inform our readers of the gargantuan ecosystem being built out and as these big dogs enter the fray and toss their billions into becoming the biggest and baddest, you can rest assure that blockchain is indeed the future!
***
OK so what other news is out there:
CCN reports that ethereum and Ripple are "non-compliant securities," Gary Gensler a former CFTC head said they are trading illegally. You know where good ol' Gary is now? He is special adviser to MIT's Media Lab, public servant, private promoter. Rinse, recycle, repeat-yadda-yadda-yadda.
***
NY AG Schneiderman sent 13 trading platforms inquiries as to their policing policy on restricting trading from prohibited jurisdictions.
***
TeamBlind did a survey polling 2602 people in the crypto space asking them if they planned on reporting their earnings for crypto. And 46% said "no" – We don't think that is a very smart move by those 46%, if it's one thing we can tell you about the U.S. government is that when they want something, they usually get it, so we highly recommend doing the right thing! It's in your best interest.
***
Stablecoin Project Basis raises $133 million VC money, which we talked about last week. And we look forward to seeing it as it develops. We are big fans of Stan D so we know he will get things done.
***
Also, out this week was a gigantic litecoin transaction which saw $99 million of litecoin being transferred. The transaction cost was 40 cents and it took 2.5 minutes to settle. The importance of this demonstrates the viability of the network in terms of efficiency and integrity and highlights the future of monetary transactions potential.
Nell Sloane is principal and editor of Capital Trading Group.
Subscribe to Capital Trading Group newsletter here
About MoneyShow.com: Founded in 1981, MoneyShow is a privately held financial media company headquartered in Sarasota, Florida. As a global network of investing and trading education, MoneyShow presents an extensive agenda of live and online events that attract over 75,000 investors, traders and financial advisors around the world.
DISCLOSURE: The views and opinions expressed in this article are those of the authors, and do not represent the views of equities.com. Readers should not consider statements made by the author as formal recommendations and should consult their financial advisor before making any investment decisions. To read our full disclosure, please go to: http://www.equities.com/disclaimer