A Week to Remember
Chris Lahiji Follow |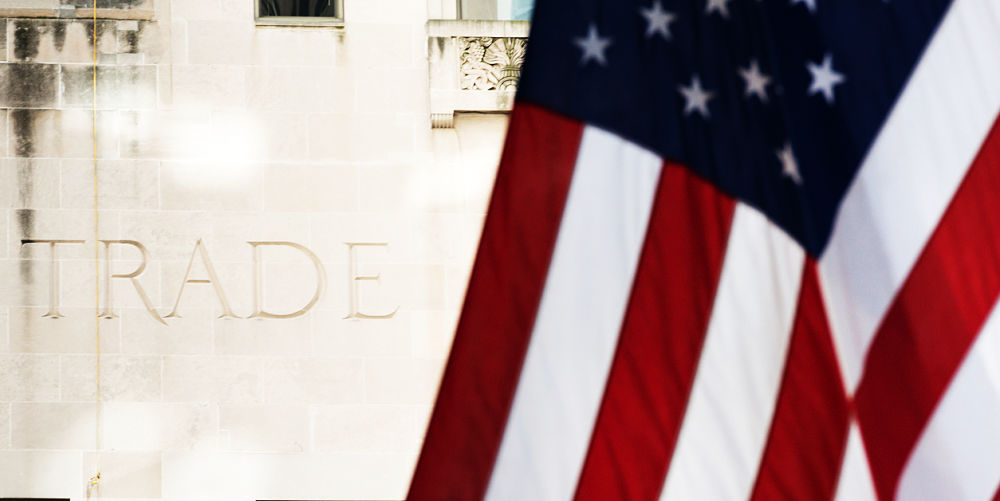 Another week of minimal volatility in markets. All indices traded in a ~200 basis point range.
Dear Patrons,
As we gear up for the 4th, the summer weeks have historically been "slow" for the markets and especially for micro-cap. Summer is for family, BBQ, bad beer (Coors), crowded overpriced hotels, and for sunscreen.
What happened this week was nothing short of amazing. It could have been the busiest five days of trading we have ever experienced as an organization. Every day, I would literally shake my head in disbelief, but in the best way possible.
I've been doing this professionally for over 16 years, and have seen a lot (mostly bad) in my career. Most of my personal investments have failed, and this is no surprise to those who invest in the smallest companies. The degree of risk is also highest in the micro-cap space.
But for whatever reason, quite a few names had significant announcements that have been a part of the LD Micro ecosystem in one way or another over the past decade.
What was odd is that the festivities started on Sunday evening, and did not let up until the close of trading on Friday.
So, let's recap all the things that transpired.
One of the things that we look for as investors are companies that have announced "strategic alternatives," or companies that looking to make a big change. Often times, it is an indication that the company is looking to be sold or merge with another entity. The stocks of these companies usually rally the same day because people believe that a deal will be announced in the months ahead. Not many companies announce "strategic alternatives" without them already shopping for a deal in private or having a plan in place.
I may look like a bald, overweight, and sloth-like creature that has never played a sport or done anything athletic in his life, but hand me some shoes, a cigarette, and a tennis racket, and we shall see what is up. For full disclosure, do not smoke, kids.
Which is why the news on Xerium (XRM) took us by surprise. Just three months after announcing strategic alternatives, this LDMi Index component gets acquired by Andritz AG for $13.50 per share. All cash, with nearly 150% premium to where the stock previously closed.
We will see 100-200 buyouts this year, but very few will have a triple-digit premium paid. If I owned the stock, this would have never happened for the XRM shareholders because I am cursed. Congrats to those who held, and we shall miss them when we reconstitute the index in August.
On Tuesday, longtime "deep value" and very quiet, TSR (TSRI) received some very interesting news. A major stockholder decided that he was done with "patience" and wants to see the company sold. What is also unique is that the same disgruntled investor is also a former executive at the company.
TSR received a letter from James Hughes on behalf of Joseph F. Hughes and Winifred M. Hughes, in which Joseph F. Hughes and Winifred M. Hughes requested that the Company's Board of Directors pursue a sale of the Company. Joseph F. Hughes is the former Chairman and Chief Executive Officer of the Company, and he and Mrs. Hughes together own a total of 819,000 shares of the Company's common stock, which represents approximately 41.8% of the Company's issued and outstanding common stock.
The stock ripped on the news but closed down for the week. I did not even know that Winifred was a female name until a few minutes ago.
On the same day, Meson Capital and Argonne Capital Group decide to make an offer to buy all of InfuSystem Holdings ( (INFU)) for $3.75 per share, all cash.
Meson already owns 9.8% of the company that they have purchased at a lower valuation, and Argonne is a big player that has already deployed close to $800 million in equity.
A couple of weeks ago, both Meson and Argonne went to the company with the $3.75 cash offer, and told that the company was "not for sale." In turn, both firms have also requested that the company elect a slate of new and capable board meetings for the next annual shareholder meeting that is coming up. I think that it would be prudent to get your drinks and popcorn before the "show," as it is about to begin.
For full disclosure, InfuSystem (INFU) is one of our largest personal holdings, and has paid to attend our conferences over the years.
On Wednesday, Differential Brands (DFBG) signed one of the biggest deals I have ever witnessed in the space. This was a company that had a lot of interest at the conference earlier in the month because of its value proposition. We also hosted a road trip back in April where over 20+ investors and analysts got to hear the story.
Differential Brands Group (DFBG) a portfolio of global consumer brands comprised of Hudson, Robert Graham and SWIMS, today announced that it has entered into a definitive purchase agreement with Global Brands Group Holding Limited, a Hong Kong listed company, to acquire a significant part of GBG's North American licensing business (the "GBG Business"), comprised of licensed brands such as Disney, Star Wars, Calvin Klein, Under Armour, Tommy Hilfiger, BCBG, bebe, Joe's, Buffalo David Bitton, Frye, Michael Kors, Cole Haan and Kenneth Cole, for a purchase price of $1.38 billion, subject to adjustment. It is anticipated that upon closing, DFBG will have in excess of $2.3 billion in pro forma annual revenue comprised of branded men's, women's, and kid's apparel, along with accessories that will be distributed to a diversified base of consumers across all retail and digital channels. The acquisition is expected to close in the third quarter of 2018.
The stock became a rocket ship on 1,500x times average daily value volume. It closed at .86 cents on Tuesday, only to trade as high as $6.27 per share on Wednesday. Congrats to Michael and the team. It will be interesting to see more details on the combined company in the weeks ahead.
For full disclosure purposes, the company has compensated us in the past to attend our events and is a current sponsor of the conferences.
On Friday, Adesto Technologies (IOTS) decided to acquire Echelon Corporation (ELON) for $8.50 per share, close to 100% premium. Both are local companies here in the Bay, and we are quite fond of the CEO of Adesto, Mr. Narbeh Derhacobian, who has done a great job positioning the company for the future.
For full disclosure, Adesto paid to attend last year's Main Event.
As if this was not enough, our friend Shawn Nelson celebrated a monumental achievement this week. His company, Lovesac ( (LOVE)) went public.
The company raised $55 million in the IPO, showcasing that anyone can be successful if they are nice, work hard, and have a wonderful product.
We have purchased a few pieces from them over the years, and it is truly the most comfortable thing I have ever "chilled" on. In fact, I am chilling on it right now.
For full disclosure, the company has also paid us to attend in years past, and we hope to have them at the Main Event in December.
To end, I only covered half of it. This is how busy the week truly was.
The other half, after the 4th.
Now let's go out and have some fun.
Be safe out there. Happy 4th of July.
NEW SECTION
Impact - Highlighting Anomalies Amongst the Biggest Gainers
The Importance of the Echelon (ELON) Buyout - The Smart City Theme Is Real.
Google has been pioneering Smart Cities through their recent acquisition of SideWalk Labs (please note recent Politico article on Toronto, the first chosen site.) The idea is to integrate IoT into our everyday lives even more. To the point that we as citizens turn into pure data to inform a wave of new services and products that will transform our next generation communities.
Investing in IoT infrastructure is starting to become a pattern. Echelon (ELON) was the second buyout in the space. Silver Spring Networks (SSNI) was bought by Itron (ITRI) to prepare for this near term future in September. The Smart City infrastructure is being built out now. Investors are being shown a roadmap to how. From SSNI to ELON, pure play Smart City ideas just started to deliver high alpha.
The Importance of Zafgan's ( (ZFGN)) Inclusion into the Russell 3000 - Allowed the Company to Raise a Year of Cash.

On June 25th Zafgen (ZFGN) announced inclusion into the Russell 3000. Sending the stock from $7 to $9 over the weekend. Enough to enlist bankers into issuing a flash secondary that was completed at $7.50 (link.)
But, rather than stabilizing at the deal price, Zafgen went straight up again. In this case, the secondary was rewarded because it gave the company an entire year of cash so investors could look forward instead of wondering about the next raise. A feat that would have been impossible without being added into the Russell 3000.
...we believe that our cash, cash equivalents and marketable securities will enable us to fund our operating expenses, debt service obligations and capital expenditures through the second quarter of 2019. [LINK]
This:
ACQUISITION: Differential Brands Group ($DFBG) to Acquire Majority of North American Division of Global Brands Group for $1.38 Billion - the stock was up over 500% at the open on Wednesday
ACQUISITION: Three Months After Announcing Strategic Alternatives, LD Micro Index Component Xerium Technologies ($XRM) Get Acquired by Andritz AG for $13.50, All-Cash, 146% Premium from previous close
ACQUISITION: Adesto ($IOTS) Announces Agreement to Acquire Echelon ($ELON) - approx $45m
Major Stockholder Requests TSR ($TSRI, +29%) to Pursue Sale of Company
Meson Capital and Argonne Capital Group offer $3.75 per share for InfuSystem ($INFU)
Pacific Energy Development ($PED) Closes Strategic Investment - Successful Restructuring of Balance Sheet
Gemphire ($GEMP) was up 77% last week: Gemcabene Meets Primary Endpoint in INDIGO-1 Study of Severe Hypertriglyceridemia (SHTG) Patients
That:
There were a lot of IPOs last week, including HyreCar
The Lovesac Company Announced Pricing of Initial Public Offering - public offering price of $16.00/share - closed the week over $20/share
The FDA Just Approved a Marijuana-Based CBD Drug for Epilepsy
One Stop Systems ($OSS) Multi-Year Military Design Win for Rugged All-Flash Arrays Ramps Up with $3.2 Million Purchase Order
Blockchain Industries ($BCII) Forms OTC Desk To Facilitate Bitcoin Block Trading
Baylin ($BYL.TO) Announces Strategic Acquisition of Alga Microwave Inc. and $35 Million Bought Deal Offering - $27m total consideration
Reis & Irvy's ($VEND), Robot-Staffed Frozen Yogurt Chain, Inks $21 Million Master Franchise Agreement in Atlanta
Cinedigm ($CIDM, +7%) Announces Fourth Quarter and Full Year Fiscal 2018 Financial Results - Full Fiscal Year Total OTT Revenue Increased 23% Driven Mainly by OTT Channel Revenue that Increased 36%
Jerash ($JRSH) Reports Double-Digit Increases in Revenue Growth and Pre-Tax Profit in Fiscal 2018
The Other Thing:
Patriot One ($PAT.V) Finalizes International Threat Detection Testing Plans with University of North Dakota
Marathon Patent Group ($MARA) Merger Deadline with Global Bit Ventures Expires; Not to Be Extended
Summer Infant ($SUMR, +5%) Closes on New $77.5 Million Financing to Fuel Growth Initiatives
Someone has to do better than this? Only 340m? - MARKETING FIRM EXACTIS LEAKED A PERSONAL INFO DATABASE WITH 340 MILLION RECORDS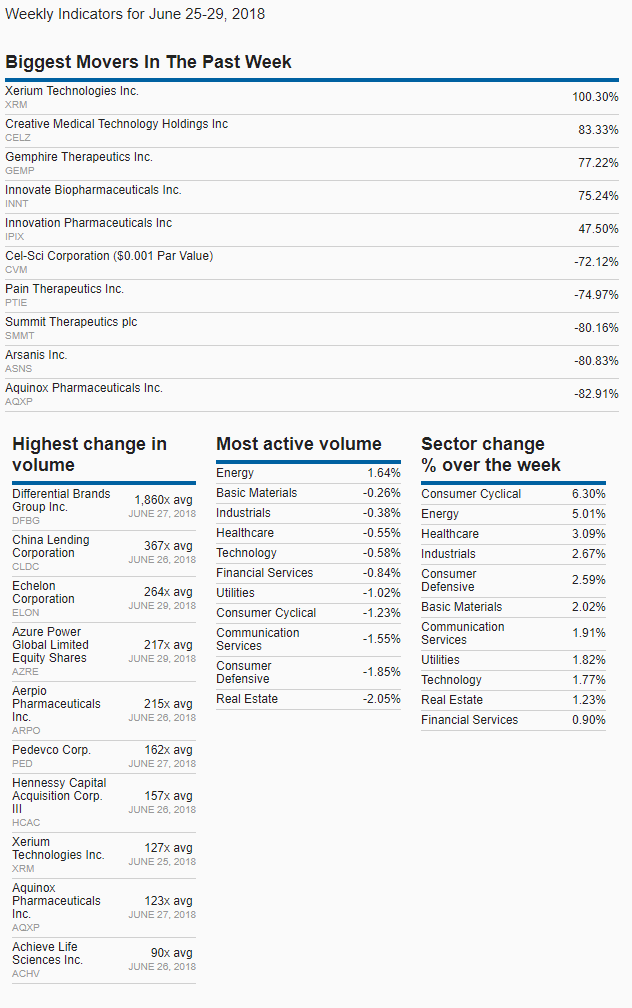 DISCLOSURE: The views and opinions expressed in this article are those of the authors, and do not represent the views of equities.com. Readers should not consider statements made by the author as formal recommendations and should consult their financial advisor before making any investment decisions. To read our full disclosure, please go to: http://www.equities.com/disclaimer.
---
Discover: Trending Events
---
You May Also Like
| Symbol | Last Price | Change | % Change |
| --- | --- | --- | --- |
| AAPL | | | |
| AMZN | | | |
| HD | | | |
| JPM | | | |
| IBM | | | |
| BA | | | |
| WMT | | | |
| DIS | | | |
| GOOG | | | |
| XOM | | | |
| BRK.A | | | |
| FB | | | |
| JNJ | | | |
| WFC | | | |
| T | | | |
| NFLX | | | |
| TSLA | | | |
| V | | | |
| UNH | | | |
| PG | | | |