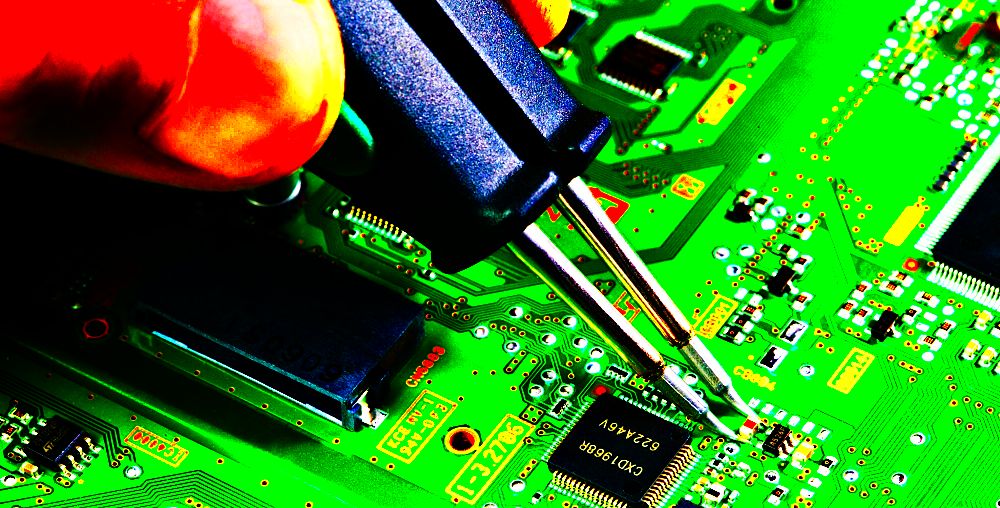 Image via Aisart/Wikimedia
Upside is a specialized advisory service that focuses on small-cap to mid-cap stocks; here, editor Rich Moroney reviews a trio of semiconductor plays that score highly in his proprietary quantitative ranking system, Quadrix.
MKS Instruments MKSI shares have surged 41% over the past 12 months, outpacing about 80% of stocks in our research universe. For the 12 months ended March, MKS grew earnings per share 89%, revenue 31%, operating cash flow 62%, and free cash flow 74% to $287 million.
Increasingly bullish on its semiconductor business, management in April gave June-quarter guidance that topped analysts' expectations. The consensus now calls for 57% higher per-share profits on 19% revenue growth.
The stock, selling at a discount to its own five-year norms on several valuation ratios, trades in line with the median S&P 1500 semiconductor equipment stock on trailing P/E (17) and price/sales (3.0).
At 13 times estimated 2018 profits, the stock offers a 7% discount to industry peers. MKS also earns excellent Quadrix scores for Momentum (97), Financial Strength (83), and Quality (96) — all highly effective in the past year. MKS is a Best Buy.
Among the 14 semiconductor equipment stocks in the S&P 600, Ultra Clean UCTT stands especially tall in Quadrix. It's Overall score of 94 is well above the average of 74, reflecting outstanding ranks for Value (97) and Quality (98).
The company makes automation gear and wafer-cleaning instruments used by chip makers — products that help reduce manufacturing costs and lower production times.
Ultra Clean faces the risk of slower revenue growth and thinner profit margins. Those worries, along with mixed near-term guidance from Applied Materials and a $100 million stock offering in January, have helped drag the stock down 23% this year. In 2017, shares surged 138%.
Ultra Clean trades at only seven times projected 2018 earnings, well below the median of 16.5 for peers in the S&P 600. That price doesn't fully reflect the company's healthy operating momentum, in our view. The stock, though likely to be volatile, is rated Buy.
Smaller is better for Nanometrics NANO. The company sells measurement and inspection systems to semiconductor makers seeking ways to shrink chip designs, accelerate product development, and improve performance.
Uncertainty regarding the semiconductor capital-spending cycle could impact the shares, but Nanometrics offers plenty of upside given recent market-share gains and product launches. Nanometrics earns strong Quadrix scores, including a 97 Overall and 99 in Earnings Estimates.
At 17 times estimated current-year earnings, the stock trades at a 17% discount to the median semiconductor-equipment stock in the S&P 1500. The P/E is just 15 excluding net cash of $124 million, or roughly $5 per share.
For 2018, the consensus calls for per-share earnings of $2.30 and implies 87% growth — an aggressive but achievable target based on recent growth and major contract wins. The stock is being initiated as a Buy.
Richard Moroney is editor of Upside.
Subscribe to Rich Moroney's Upside here…
About MoneyShow.com: Founded in 1981, MoneyShow is a privately held financial media company headquartered in Sarasota, Florida. As a global network of investing and trading education, MoneyShow presents an extensive agenda of live and online events that attract over 75,000 investors, traders and financial advisors around the world.