Becoming involved in the cannabis space is a unique chance to help build an entire regulated industry from the underground up. Many people who are entering the above ground industry are hoping to help build it in a way that is fresh and progressive, relative to more traditional experiences. Part of accomplishing that is amplifying women's voices and women leaders.
Women made up only 6.4 percent of executives on the 2017 Forbes 500 list; that number went down to about 4.8 percent in 2018. And to be clear, that translates to a drop from 32 to 24 women executives out of 500.
In contrast, in 2017, women held 27% of the executive-level roles in the marijuana industry, according to a survey conducted by Marijuana Business Daily. Today, that number has only grown. The current media landscape has even gone so far as to say there is no glass ceiling in the cannabis industry — there's no ceiling at all!
To try and get an idea of where we stand, I asked two women executives in the cannabis industry, Salwa Ibrahim and Naomi Granger, "What advantages and challenges do you face as a woman in the cannabis industry?"
Being a woman has made me prioritize a healthy work/life balance through collaboration in an industry where there is fierce competition and a strong sense of urgency to have first mover advantage. We pride ourselves on growing a company that has a female-friendly culture. Our team prioritizes adaptability, optimism, communication and growth. In addition, being a mom has made me adept at handling many projects and tasks simultaneously which in cannabis is a particularly handy skill as the environment is constantly changing, and shifting gears mid project is often necessary.
— Salwa Ibrahim, Cofounder of MKSI Investments, an Oakland, California-based cannabis business accelerator. MKSI's experienced team of entrepreneurs identifies strategic opportunities and leverages a deep network of talent to turn creativity into results. Today, MKSI lends expertise, network capital and experience to cannabis companies with unique potential for long-term success.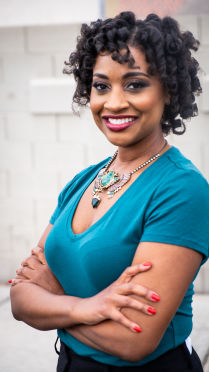 Right now is an exciting time to be in the cannabis industry, especially as a woman. At Dope CFO, we teach business owners how to have more freedom and flexibility in their business and their life. We teach them how to start a business where they feel appreciated and where they're getting paid what they're worth. It is also important for women to have something meaningful in their life and to make a difference. As a cannabis accountant, we are able to truly make a difference in both the lives of cannabis business owners and the patients who are dependent on this medication.

Most often we as women give ourselves the short end of the stick. We are givers and we often look after everyone else first before looking after ourselves. Women look to me and see that I am able to have a successful career and live an amazing life. They look to me and they are able to see possibility. They often tell me that they knew they could do it because they are able to relate to my story and they see me successful taking the road less traveled. I love being able to be that example and to reach women who may have been feeling stuck or out of options. I love being able to help women not only improve their business but to also improve their life.
— Naomi Granger, CPA, MBA, co-founder of Dope CFO, the leader in cannabis accounting and tax. They provide the only national training program for CPAs, EAs, MBAs, bookkeepers and CFOs who want to serve in cannabis with almost 200 students in 40 states who join via webinar. Naomi was featured in MJ Biz Jan 2019 Magazine "Women to Watch".