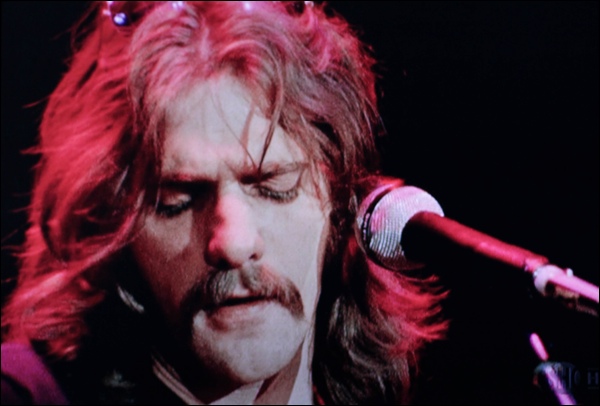 I can remember where I was the very first time that I heard Glenn Frey's haunting voice. I was 14 years old laying on a pillow on the floor of my bedroom with hot tears streaming down my face from my very first heartbreak, when the song "Desperado" came on the radio. Raw emotion through the airwaves soothed my teenage soul and from that moment forward, Glenn Frey was ' it'. I was hooked. After that, I saved up my babysitting money and bought my first of many Eagles albums.
Every chapter of my life from that point forward, seemed punctuated by a Glenn Frey song. When I ventured off to college, I was the "New Kid in Town." When I felt life's pressures, Glenn would sing, "The Heat Is On" and I felt like I could take on the world and do anything! He always seemed to write just the perfect theme song for whatever I was facing at any particular point in my life. I can remember going for a run in the rain with "Wasted Time' playing on my Sony Walkman, as I faced ending my first marriage and every word Glenn sang seemed to articulate the very fears that taunted me. When I moved to the city of Vancouver, it was the first time I think I have ever fallen in love with a city. I strutted down Robson Street with "You Belong to the City" on my iPod knowing full well that Glenn understood what I was feeling.
So many of life's truths, I learned from the lyrics that Glenn Frey wrote:
'You can't hide your lyin' eyes'…. The older I become the more I value truth and honesty.
'Life in the fast lane will surely make you lose your mind'…. All be it brief, the season of my life where I lived in the fast lane, so to speak, did in fact, nearly make me lose mind… among other things. Glenn knew what he was talking about although I am sure he had far more experience than I.
'You can spend all your time making money, you can spend all your love making time. If it all fell to pieces tomorrow, would you still be mine?' ….I have found that the pursuit of success and money, although vital to our existence, means nothing if we lose those people that are most important to us in our lives, in the process.
"I got a peaceful easy feeling, and I know you won't let me down, 'cause I'm already standing on the ground.'…. when I learned to root myself in reality and take responsibility for my expectations, I realized that I could avoid feeling disappointed by others and that allowed me to find peace in my relationships.
'You can check out anytime you like, but you can never leave'—I found myself caught in situations at points in my life where I felt stuck. Yet once I learned that, 'We are all just prisoners here, of our own device' that allowed me check out of my own personal Hotel California.
Glenn Frey, your unique ability to write songs that speak to the human condition was what made your leaving us so personal for me. I cannot remember a time that your songs were not part of my life. You will be missed. You are now free from the confines of your earthly body and the sicknesses that imprisoned you. You have checked out of your own Hotel California.
DISCLOSURE: The views and opinions expressed in this article are those of the authors, and do not represent the views of equities.com. Readers should not consider statements made by the author as formal recommendations and should consult their financial advisor before making any investment decisions. To read our full disclosure, please go to: http://www.equities.com/disclaimer