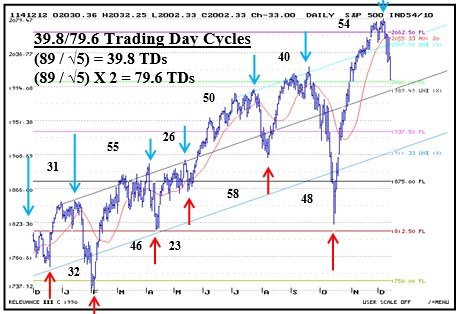 Twenty years from the December 1994 bottom. 40 years from the December 1974 bottom. The selloff I've been anticipating has begun in earnest. On December 5th, we saw the Dow Jones Industrials and S&P 500 push to new, all time highs – the last two among what I often refer to as Big Five or Big Six major stock indices: DJIA, DJTA, S&P 500, NYA, NASDAQ Comp, and Russell 2000. Going forward, I'm looking for a bear market lasting about 13 months. My charter over these next 13 months will be to identify relief points – there will be some – and, as necessary, dodge in-and-out around them.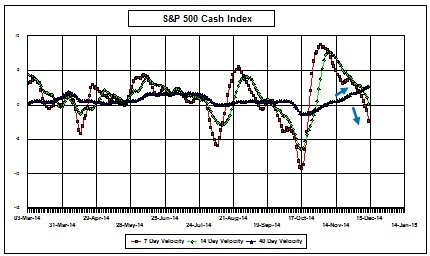 In the very short term, I note the S&P 500 is fast approaching its 2,000 price octave as well as the center 1 X 1 angle depicted on my chart. I note, too, my 40-day price velocity component is still rising. This all suggests that we may see a minor relief in the decline now underway. In addition, we have an FOMC meeting next week that may give investors some pause to await the latest pronouncement from On-High. Any relief pop we get will be a gift for the bears to add to shorts. That's what I will be doing…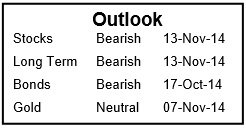 890 TD / 185.5 Week Cycle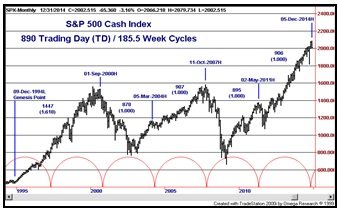 At left I again show my weekly chart of the S&P 500 cash index with a recurring rhythm I have found that averages just a tad over 890 trading days – about 185.5 weeks. Below the chart is my updated regression analysis incorporating the 05-Dec-2014 high. The analysis calculates a cycle length of 888.66 trading days – very close to my 890 TD theoretical value. It also reveals a very high coefficient of determination value, symbolized by R², and a very low standard deviation compared to its cycle length. This is a very good cycle.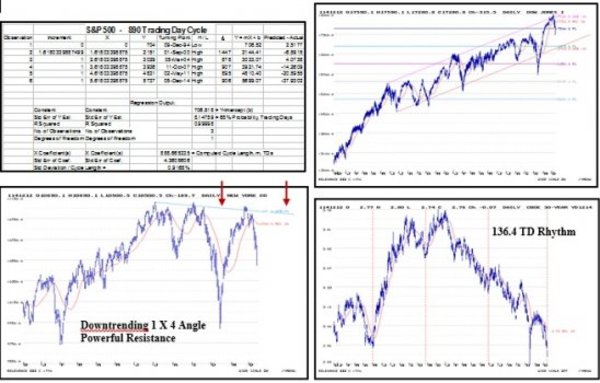 Treasury Bonds
Bond prices have continued to creep higher – putting my bearish stance further underwater. However, I note a cyclical rhythm of 136.4 trading days – due right about now. I also am aware from experience that bond prices are prone to reversing near Fed meetings and near solstices / equinoxes as well – we have both coming up very soon.
Precious Metals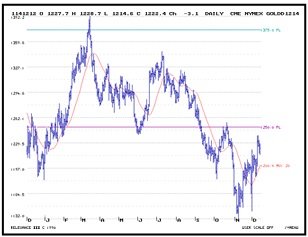 In this counter-trend move higher now underway, the 1,250 price octave and change is more likely probable in the near future. The 20-day moving average is pointed decisively northbound. While going long might have netted some small profit, the better risk / reward has been on the sidelines.
Each month, Stan Harley publishes The Harley Market Letter, a newsletter that provides advanced technical analysis of stocks, bonds, and precious metals. This is the latest update to the Harley Market Letter for December. Want to learn more from acclaimed market analyst Stan Harley? Visit his site and subscribe to the full Harley Market Letter.
DISCLOSURE: The views and opinions expressed in this article are those of the authors, and do not represent the views of equities.com. Readers should not consider statements made by the author as formal recommendations and should consult their financial advisor before making any investment decisions. To read our full disclosure, please go to: http://www.equities.com/disclaimer