Header Image Source: iStockphoto.com/user:bkindler
We have written about it before, but there is only one stock to own in the Florida cannabis market and that is Trulieve Cannabis Corp. [TCNNF, TRUL:CNX] Florida often is overlooked in the cannabis market, but the Marijuana Business Factbook projects the state will reach $425 million to $525 million in sales in 2019.
Trulieve is capturing nearly 50% of sales across the entire state. A research firm in Denver looked at THC/CBD sales and Flower sales across Florida, and the results were impressive. Trulieve owns 49.2% of THC/CBD sales and 45.8% of the smokable flower sales. The next company in each category doesn't crack 20%.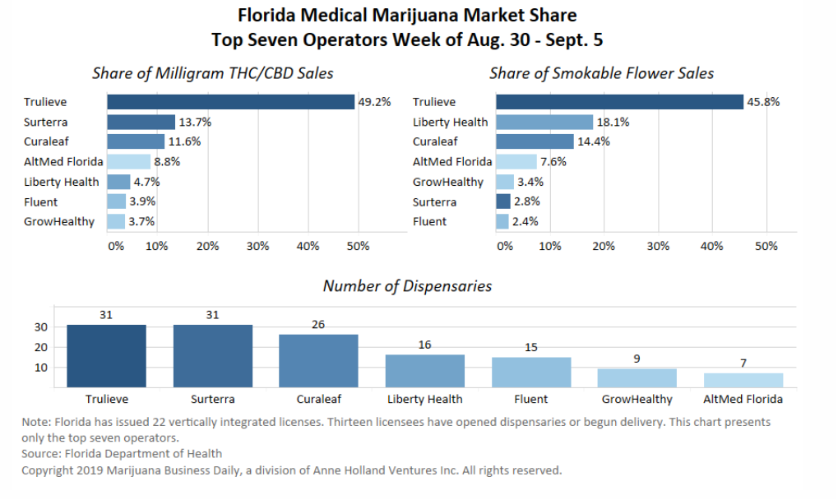 Image Source: https://mjbizdaily.com/
"Yes, they absolutely have the market share right now," concurred Sally Peebles, a Florida cannabis attorney and partner in the Vicente Sederberg law firm.
Robert Fagan, an equity research analyst for GMP Securities, also noted Trulieve's dominance and increased his projections for the company in September. "We believe Trulieve's Q3/19 revenues in Florida could potentially reach $75 million, which we note excludes contribution from operations in Connecticut and California. Comparing this to our previous street-high forecast of ~$68 million and consensus of ~$64 million, suggests TRUL's Q3 estimates are too low."
Worth noting that Fagan's estimate is not even the highest for Q3 – $77.7 million is the high mark. Lastly, most analysts predict the company will exceed $400 million in revenues in 2020, and as Florida's market is expected to grow to $1.7 billion by 2022, Trulieve is expected to keep pace with $800 million in potential sales in that year, according to ArcView Market Research.
How has the company done it? The answer is scaling aggressively, really. The company has 230 SKUs across 37 dispensaries, two of which just opened over the last few days in Cape Coral and Destin, Florida. In an interview with Midas Letter, CEO Kim Rivers outlined their model:
"…first of all, I would say that we didn't know that there would be any other way than to start a company with an eye on becoming profitable. You know, as I mentioned, we have a Board that's comprised of successful, multi-generational business owners, and are very focused on fundamentals…Number Two, I would say that we really, in the beginning, started off with this thesis of building the best cannabis brand that is patient and customer focused, in the state. And we wanted to prove that we could actually penetrate a market, and so as opposed to going, you know, very wide and shallow, I would say we decided to go more narrow, but very deep. And to get to scale."
Trulieve has certainly achieved this as they are expected to surpass 40 dispensaries by year end. Now, these numbers will drop some as competitors increase their store count, but Trulieve has a very customer-focused approach, and it is paying off. Looking at the chart below, their Q2 gross profits dwarf those of MedMen, Curaleaf and Liberty Health.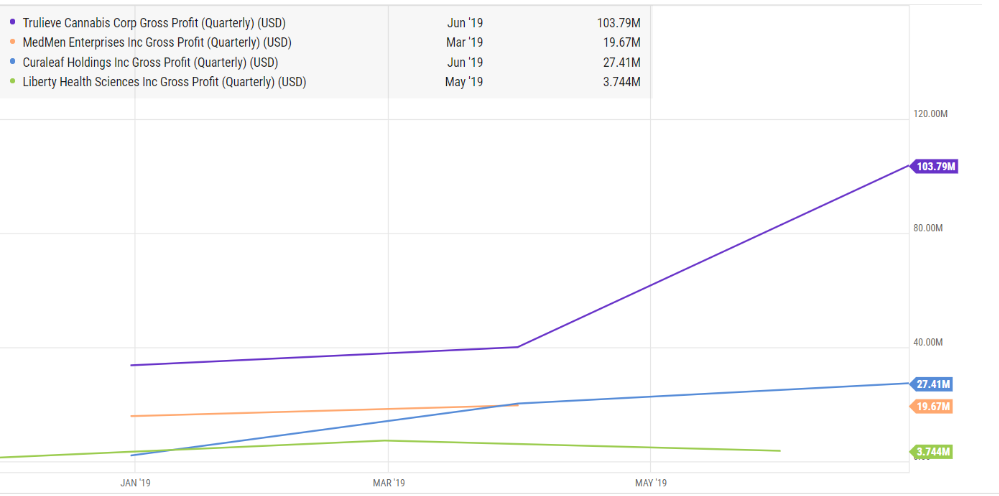 While in the second chart, you can see the upward trajectory of revenues. In that same chart, Liberty Health has not made much growth revenue-wise.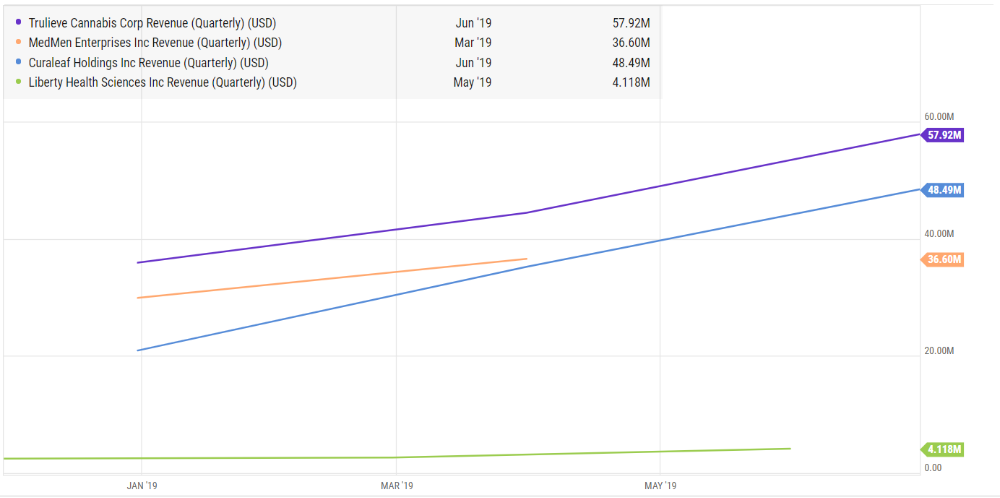 Lastly, something else to keep in mind, Florida has a chance to legalize recreational cannabis sales in 2020. The ballot initiative is being debated as we speak.
___
Equities Contributor: Stephen L. Kanaval
Source: Equities News