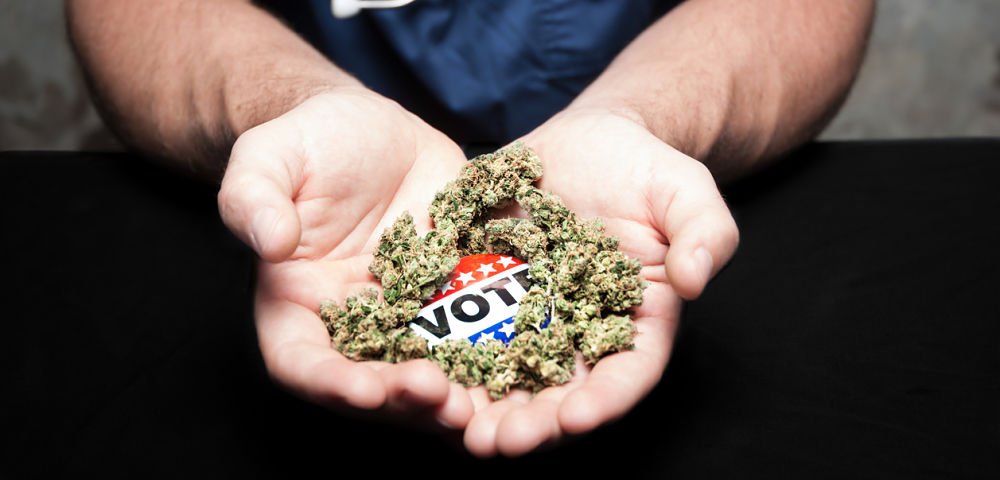 The 2018 midterm elections are approaching fast and there are many serious issues that will need to be addressed by voters; one of them is cannabis legalization in various states where it is on the ballot. Given the enormous popular support enjoyed by cannabis reform and its expansion at the state level, one might be forgiven for forgetting the plant's legal status on the federal level. There is no doubt that cannabis voters represent a growing and influential bloc – we will see them show their true numbers this November and into 2019.
Below, notable cannabis industry executives and analysts give us some insight into four states likely to legalize in the very near future: Michigan, New Jersey, New York, and Ohio.
Michigan
"Of the cannabis initiatives on the books for November 2018, Michigan's recreational prospects are the most promising. Various polls have the state looking likely to approve adult use, and from an overall revenue perspective, the potential for sales and growth in a functional, formal market is massive. The state already has nearly 270,000 medical marijuana patients, a population of 10 million people, has been hit hard by the opioid epidemic, and is starved for both tax revenue and cannabis access due to an MMJ supply bottleneck that has led to a thriving black market. Its proximity to populous Midwestern states without widespread cannabis access like Illinois, Ohio and Indiana, gives it great tourist potential as well."
— Jamie Schau, Senior Analyst at the Brightfield Group, a cannabis-focused market research firm providing accurate and comprehensive consumer, brand, and market insights in the industry, offering a critical edge in a quickly emerging and competitive market. The company focuses on providing clients with information they need to ensure business returns and enter the industry or a new category within the space.
New Jersey
"New Jersey appears to be the best bet in regard to which state will legalize recreational cannabis next. Medical marijuana is already legal which means the state has a framework in place for how to license and regulate growers and sellers that could easily be expanded to full legalization. Governor Murphy pledged to legalize cannabis on the campaign trail, and it is now looking like he has enough support from legislators to make good on that promise in the near future."
—Sam D'arcangelo, Director of HeadCount's Cannabis Voter Project, a non-partisan organization to register voters and promote participation in democracy.
New York
"New York has long been a hotbed for marijuana reform and in recent years has toyed with legalizing recreational cannabis use. Now that states like California, Colorado, and Washington have legalized cannabis, New York can see how different approaches to legalization have played out and can design its own regulatory framework with the lessons learned in other states in mind. Add the recent release of a state commissioned study recommending the legalization of cannabis, and I think there is a very real chance New York could become the next state to fully legalize recreational cannabis."
— Leslie Bocskor, CEO of Electrum Partners, an advisory services firm specializing in medical and recreational cannabis and ancillary businesses. The company engineers the underpinnings of successful business entries and exits across the full spectrum of cannabis business verticals, as well as helps to develop policy and regulatory frameworks.
Maryland
"Maryland has been moving towards less restrictive marijuana laws for a number of years and recently legalized medical marijuana. Even though Maryland's current governor is Republican, Maryland as a whole is a fairly progressive state where full legalization is well within the realm of reality — especially since their next door neighbor in Washington, DC has already legalized growing, possession, and adult use of cannabis."
—Steve Gormley, President and CEO of JuJu Royal, a brand created for and inspired by Julian Marley, Reggae musician and son of Bob Marley. The brand's medicinal herbs are grown naturally, and its extracts are crafted using high-quality solventless technology.