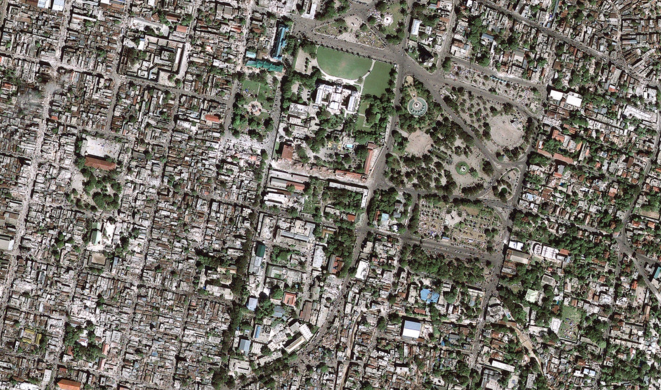 At the recent EQUITIES Emerging Growth and Innovation Forum in New York, a number of business leaders, entrepreneurs, and innovators came together to discuss the accelerating rate of change in technology - and how best to take advantage of it.

One such company that made a noteworthy showing at the conference was Orbital Insight, Inc. Founded by artificial intelligence researcher and entrepreneur Dr. James Crawford, Orbital Insight utilizes in-depth data analytics of satellite imagery to provide valuable information to their clients.
According to Crawford, with their satellite imagery, Orbital Insight can "look at parking lots, and tell you how Wal-Mart (WMT) is doing, how Target (TGT) is doing, or how much Chipotle (CMG) is being affected by the problems and challenges that they've had."
Crawford explains that Orbital Insight will "actually use deep learning to count the cars in all these images, then correlate all the results to predict quarterly sales." The company has also found success in predicting corn yields by taking satellite images of farmer's corn crops. These same predictive analytics have also proven useful in real estate and the energy sector as well, suggesting this could be a rapidly growing sector in the near future.
---
---
Bringing NASA Engineering to the Private Sector
Prior to founding Orbital Insight, Crawford worked as an engineer at Google, leading their project to scan millions of books, as well as building intelligent systems for NASA. Thus, it seems like a perfectly natural fit that Crawford has synthesized data analytics and satellite computing at his company. However, as Orbital Insight VP and Head of Sales AJ DeRosa explained at the EQUITIES Emerging Growth and Innovation Forum last month, until now, the technology they use to collect their data never even existed.
"There are three converging technologies that made Orbital Insight feasible," said DeRosa. "One is that geospatial data is exploding. Small satellites are going up to space. Elon Musk and Jeff Bezos just sent rockets up into space and landed a rocket down back on the ground. By 2020, there will be persistent surveillance of the entire planet on a real-time basis from space. You have Amazon (AMZN) Web Services that now have the GPU, which is 100 times faster than a CPU, and then you have this idea of deep learning. That's really the innovation that's [enabled] what Orbital Insight can do. Machine vision used to be wrong 21% of the time. That's pretty bad. That was about two years ago. Today, deep learning is wrong 4% of the time, and we are wrong 5% of the time. So by taking those three technologies together and converging them, we were able to create Orbital Insight."
Last year, Orbital Insight closed an $8.7 million round of Series A funding, by investor groups led by Sequoia Capital, and as the technology they utilize matures, Crawford believes the potential for Orbital Insight will only grow. As the cost of launching and maintaining satellites falls, Crawford asserts that we're seeing "tremendous investment in satellites to measure all kinds of things, and then in the analytics companies like ours, that take that data, and push it out so that it becomes an insight."
Check out Crawford's full interview with Equities.com's broadcast contributor below:

DISCLOSURE: The views and opinions expressed in this article are those of the authors, and do not represent the views of equities.com. Readers should not consider statements made by the author as formal recommendations and should consult their financial advisor before making any investment decisions. To read our full disclosure, please go to: http://www.equities.com/disclaimer