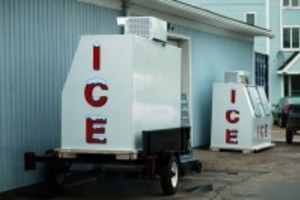 If you are in the computer industry or have followed any analysts who cover computer hardware you will hear the term CAPEX - which means the capital expenditure - associated with the expected replacement cycle for current hardware and a way to value current hardware. It occurred to me that appliances have the same value to homeowners across America, and although they don't make up as high a percentage for the consumer, it is a large business with a multi pronged revenue stream.
I was trawling movers today and I found a cool company named Appliance Recycling Centers of America Inc. (ARCI) which looked undervalued based on some back of the envelope calculations - so I reached out to the largest shareholder in that company, Jon Isaac of Isaac Capital Group, who walked me through a few points about the company.
· The company hired back long time Founder and CEO Ed (Jack) Cameron and fired the old CEO.
· They have 3 distinct business lines including 18 retail stores located in 4 states which generate about $70m in revenues, and about a dozen recycling facilities across the country and in Canada in four states.
· The company is part of a unique joint venture in a company which has deep relationships with General Electric (GE) , taking in GE's appliances and recycling them a very environmentally friendly and energy efficient way, all in their state- of- the art Philadelphia plant.
· Part of the strategy is to work with utility companies across the USA and getting their consumers in each respective city to upgrade energy hogs and to replace them with efficient appliances.
Mr. Isaac believes the company is undervalued, which is why his firm took a large stake, owning around 12%. "Jack [CEO] is a well-respected leader, and I believe the company is set for success under his leadership. And between him and Brian [CEO of ARCA Advanced Processing, Joint Venture] this company is well poised for growth and for success for many years to come," said Isaac.
I thought it was a pretty cool story, and I often look at the refrigerators/freezers sitting on the curb and say to myself "there is money there sitting on the sidewalk, when will someone start doing this as a business and why doesn't anyone talk about the consumer capex cycle and identify it for what it is?"
Often filings do not tell the story, which is why companies travel to conferences and constantly put out PR to help relay the message. The thing I like about this stock is it looks to be part of a bigger play, but I wanted to dig a little deeper before talking about that. I thought it best just to send a note and highlight another small company I am fortunate enough to stumble on during my daily search.
I think this small company is on the right track, and keep in mind, I know little about them other than today's surface review. That's why I called the company. A few notes: they have small valuation at $8 million but have a decent top line at $130 million and a decent bottom line (their most recent quarterly filing showed that they generated $600k in profits). That's the reason it jumped off the page, and I think investors are noticing, hence the 15% move yesterday.
Also, it is a skinny trader, which can be a double-edged sword because market impact to get in and out is affected. But I can tell you one important point I've learned over the years: I like it when a company has the sense to call the reporter back. It shows that they have some day to day continuity and these simple things often lead to great execution. Safe Investing!
DISCLOSURE: The views and opinions expressed in this article are those of the authors, and do not represent the views of equities.com. Readers should not consider statements made by the author as formal recommendations and should consult their financial advisor before making any investment decisions. To read our full disclosure, please go to: http://www.equities.com/disclaimer