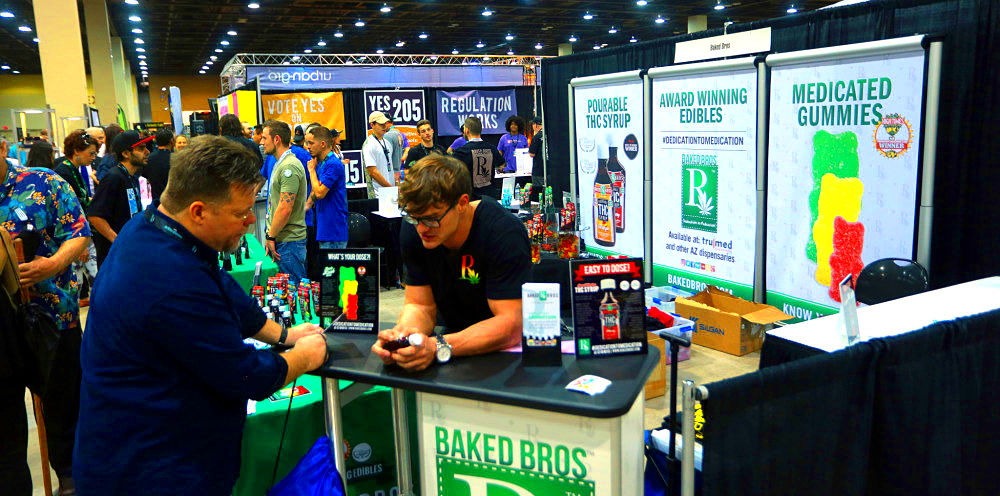 Image via Gage Skidmore/Flickr CC
It's not easy to grow a business of any kind, let alone one that revolves around a federally illegal plant. In order to succeed, cannabis business owners are required to jump through a number of complex legal hoops, pay attention to rapidly changing regulations, miss out on tax incentives provided to business owners in other industries, and serve a rapidly growing segment of the population with limited access to marketing research. Perhaps more than in any other sector, cannabis entrepreneurs need to envelop themselves in their work and the industry as a whole to stay ahead, and without proper tools, the process can be rigorous.

Here are 8 tips from cannabis industry executives on how to grow a business in the space:
Mitchell Kulick, Partner at Feuerstein Kulick LLP, a cannabis law firm providing legal services to companies, funds, investors and lenders in the space:
"Due to inability to cross state lines with marijuana products, the business has evolved into an intrastate industry. This reality has forced many companies that are looking to expand into new states, to license their brands, intellectual property, formulations, etc. to local partners in such other states. This marijuana-based anomaly has created an interesting situation that can be made into lemonade. Rather than having to make capital expenditures, by entering into a license deal with a local partner, an expanding company can get upfront fees, sometimes a significant amount of money, and a continuing royalty with respect to future sales by the local partner. For a company with a less-than-stable balance sheet, this can be a great source of non-dilutive financing and, for a company with a healthier balance sheet, it can be a nice payday with great future upside potential."
Will Waldrop, CEO of Signal Bay, Inc. (OTCMKTS: SGBY), a cannabis biotech company providing research, analysis and consulting services to the medical marijuana industry through its subsidiaries:
"Any cannabis business owner interested in growing their business will need to keep a close tab on the changing regulatory framework for cannabis legislation, and on all levels. The market is expanding rapidly, and anyone that positions themselves effectively in growing territories (while working in an ethical, focused manner) will have access to one of the greatest economic opportunities that we've seen in decades."
Prateek (Teek) Dwivedi, CEO of Ehave (Ticker: EHVVF), a data-driven medical innovation company empowering the mental healthcare community with a next-generation of data-rich tools designed to improve patient management, diagnosis, and treatment:
"As the recreational and medicinal cannabis market grows, business owners need to start thinking about how to differentiate themselves in order to retain and grow revenue. Buyers and patients can get inundated with information about different strains, and find it difficult to determine what is "better" when the names of strains are all similar, and often completely foreign to them. By determining ways of using high quality data, including feedback on preferences and efficacy, business owners will have the data for precise marketing while protecting and growing their profit."
Charlie Hoch, CEO of Eyce, producer of a unique line of silicone consumption devices with custom features such as integrated storage compartments, tool holders, and other custom accessories:
"Keep in mind, that with the progression of marijuana legalization, it is important to represent yourself not only professionally, but in a mainstream manner. I know some of us would like to keep the industry underground forever, but if we are going to see progress in the way cannabis businesses are perceived, it is crucial to keep our messages guided towards a mainstream majority."
Jason Santos, CEO of Burn TV, a Netflix-type digital lifestyle and entertainment platform embracing the legal cannabis industry:
"One of the more important things I always recommend to people in any sector of the cannabis industry is to think past the stereotypes. A lot of people are focused on branding, marketing, and imagery that caters really only to what is typically seen as that "stoner" demographic, and over the last 5 years that has become a very crowded marketplace. With over 40M people in the US using cannabis regularly now, there is a much wider demographic of people out there interested in products, and a large part of them are not going to respond to that stereotypical marketing. So there is a huge opportunity for brands, products, shops, etc. to connect to an even bigger consumer base, but to do so it's going to take smarter branding and marketing that doesn't alienate those consumers."
Danny Davis, Managing Partner at Convectium, a branding, packaging and equipment solutions company for the legal cannabis industry:
"One of the best tactics or hacks we now use on the finance side for cannabis was recommended to us by our friend Adrian Sedlin at Candescent. He explained that to achieve the best success in fundraising was not looking for the person with the most amount of money to invest, because the risk was not worth the reward, he advised that we look to our own network of smaller investors to make up the amount we needed. Since utilizing this strategy we were fully funded in less than 4 months and are consistently approached to open another round. Many cannabis industry professionals believe that their personal network is too risk averse for the industry, a little investigation will probably prove otherwise."
Jesse Henry, Executive Director of Barbary Coast, an SF-based medical cannabis dispensary collective with a vaporizing and smoking lounge to maximize safety and comfort to patients:
"At Barbary Coast, it's making sure we have the cleanest, safest, and best quality medicine as well as having the best customer service in the industry. Having these fundamental qualities, we feel, just gives us a better product and a consistent brand."
Lisa Harun, Co-Founder of Vapium, a Canadian vaporizer company focused on providing durable, portable high-tech devices designed for outdoor use:
"The most effective way for cannabis business owners to grow is by staying on top of emerging technologies and innovations in the space, which are rapidly expanding and dramatically altering the business landscape. Anyone hoping to stay competitive will need to focus intently on making sure that maximum value is being delivered to their consumers through the use of the best available products and services on the market, given the increasing variety of high-quality options for recreational consumers and medical patients in legal states."
DISCLOSURE: The views and opinions expressed in this article are those of the authors, and do not represent the views of equities.com. Readers should not consider statements made by the author as formal recommendations and should consult their financial advisor before making any investment decisions. To read our full disclosure, please go to: http://www.equities.com/disclaimer