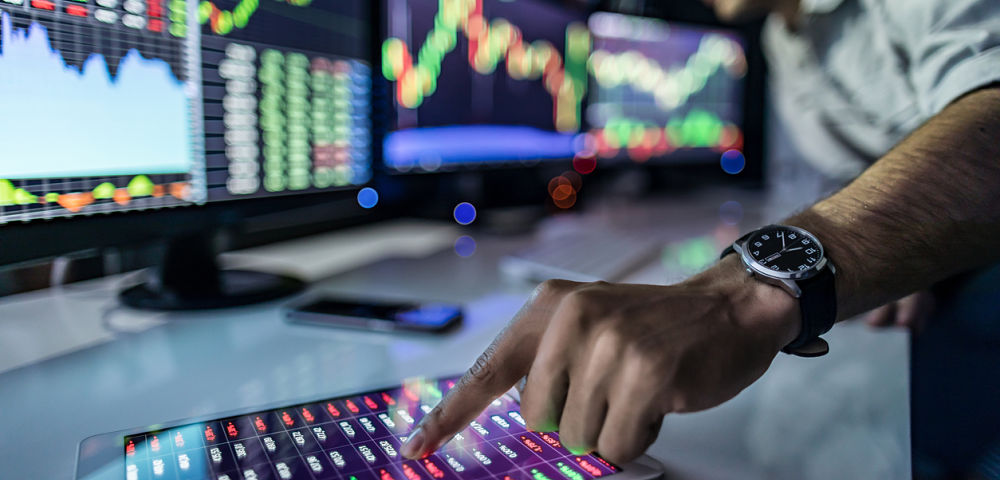 Diversifying your portfolio, one of the few ways to get a free lunch on Wall Street, is a bit harder than usual nowadays, notes Richard Moroney, editor of the small- and mid-cap oriented advisory service, Upside.
Nearly 70% of the S&P 1500 stocks with Overall Quadrix scores above 80 come from just three sectors: consumer discretionary, financials and technology. Not surprisingly, our Buy List is also concentrated in the top three sectors.
While we'd rather overweight attractive sectors than settle for second-tier names, we don't want one or two sectors to dominate our Best Buy List or Buy List. And we're always looking for potential opportunities in areas that would bring diversity.
As an aid to investors looking to diversify their portfolios, the stocks listed below represent top picks across 7 broad sectors, reflecting strong Quadrix scores and operating momentum. Quadrix is our proprietary ranking system that measure a wide variety of metrics on a scale from 1 to 100).
Evercore (EVR) earns impressive Quardrix scores of 95 for Overall and 98 for Quality, versus respective averages of 68 and 65 for the 30 investment-banking firms in Quadrix. Based on month-end scores, the stock's Overall rank has not been below 94 over the past year.
With a Value score of 82, Evercore looks cheap at 15 times estimated 2018 earnings, particularly given its expanding market share and healthy wealth-management business. Evercore, our favorite pick in the financial sector, is rated Best Buy.
Boise Cascade (BCC), our top pick in materials, enters 2018 with considerable momentum. The stock has rallied 47% in the past six months, pushing its trailing P/E ratio to 26, above the median of 22 for the S&P 1500 materials sector. But the shares trade at a discount to their sector based on trailing sales, operating cash flow, and free cash flow.
Positioned to be a major beneficiary of the new U.S. tax law, the company makes wood products and building materials in the U.S. and Canada.
The hurricanes and flooding that hit Southern states last year caused prices for wood products to surge. Prices have slipped since then but should remain at historically elevated levels due to the resilient home-construction market. Analysts expect per-share profits to surge 30% in 2018 on 9% higher sales. Boise is a Best Buy.
Consolidated-Tomoka Land (CTO) is an aggressive holding and one of the smallest stocks we recommend, with a market value of just $370 million. The company focuses on a broad range of income-producing real estate. It owns and manages 39 commercial properties in 12 states, invests in commercial loans, leases undeveloped land for billboards and agricultural production, and even has a golf club.
Management has accelerated its deal activity since 2011, spending $360 million on acquisitions. It has also become more aggressive in selling off undeveloped land. For full-year 2017, adjusted per-share earnings increased 23% on revenue growth of 29%. The stock, with a Quadrix Overall score of 99, is rated Buy.
Growth prospects for Patrick Industries (PATK), a building-products supplier, continue to benefit from consumer optimism, moderate fuel prices, favorable demographic trends, and a strengthening housing market.
Patrick generates about 80% of revenue from manufactured panels, moldings, trim, doors, furniture, countertops, and fiberglass for recreational vehicles, homes, and boats.
Although RV sales have surpassed their prior peak before the 2008 financial meltdown, Patrick anticipates 5% annual growth through 2020. Per-share profits are expected to climb 18% in 2018, up from the 11% growth projected 90 days ago. Shares trade at 19 times the 2018 estimate, versus the industrials sector median of 21.
In January, Patrick approved $50 million in stock repurchases over the next 24 months, roughly 3% of outstanding shares. Patrick shares have been choppy recently because of concerns regarding excessive RV inventories, but the stock — earning a Quality score of 97 — is Best Buy.
Sprouts Farmers Market (SFM), our sole consumer-staples stock, operates a chain of more than 280 grocery stores that specialize in lower-priced fresh produce and organic products.
Merger talks with Target (TGT) advanced to the late stages last summer, only to fall apart. But, with health-conscious consumers eating more produce, Sprouts remains an attractive takeover candidate in the otherwise sluggish grocery industry. Sprouts is being upgraded to a Best Buy.
One of the world's largest technology distributors, Tech Data (TECD) sells products for more than 1,000 vendors to some 115,000 customers worldwide. Strong demand and operational gains across several product lines have powered sales and earnings growth. Market-share gains and an expanding geographic footprint bode well for continued growth. Acquisitions should also help, particularly in Asia.
Tech Data's tax rate of nearly 32% suggests the potential for significant savings. The stock's average implied target price is $130, suggesting 28% upside. Tech Data, which earns a score of 94 for both Overall and Value, is a Best Buy.
Gusts of the improving U.S. economy have stoked sales at Thor Industries (THO); its recent growth is outpacing the overall recreational vehicle industry. Favorable trends show no signs of abating, and Thor anticipates several more years of strong RV growth.
Although Thor has been expanding capacity in the past year, strong consumer demand, especially for lower-priced trailers, drove Thor's backlog 70% higher to $3.58 billion at the end of October, roughly half of annual revenue.
Analyst estimates have jumped in the past 60 days, with the consensus targeting 31% higher earnings per share on 18% revenue growth for fiscal 2018 ending July. The stock trades at 15 times estimated profits and earns a solid Quadrix Value score of 65.
Thor slumped Jan. 26 on a brokerage downgrade spurred by worries over excessive RV inventories. But we remain optimistic on the industry outlook, and Thor remains a Best Buy.
Richard Moroney is editor of Upside.
Subscribe to Richard Moroney's Upside here…
About MoneyShow.com: Founded in 1981, MoneyShow is a privately held financial media company headquartered in Sarasota, Florida. As a global network of investing and trading education, MoneyShow presents an extensive agenda of live and online events that attract over 75,000 investors, traders and financial advisors around the world.