Moderna finally ended months, if not years, of speculation by filing its Form S-1 with the SEC last week for its initial public offering. The "proposed maximum aggregate offering price" that appears on the cover of the filing states it will be a $500 million transaction. While this amount is, of course, not binding in any way, it does provide a sense of the scale of the ambitions of the company and its CEO, Stéphane Bancel, to anyone who perhaps might have been unfamiliar with them by now.
We've been following Moderna for many years as it has successfully raised round after round of venture capital, and we devoured the S-1 filing over the weekend. While the ultimate deal valuation and timing won't be determined until the SEC has had an opportunity to respond with comments, we have these five observations about the company and this deal. To be clear, this is not to be construed as a recommendation either way. We have no financial or business stake in the company; we simply believe investors who have been watching this company and may be contemplating the IPO should consider the following issues:
Could be largest US biotech IPO ever
Messenger RNA as a potential platform technology
Pipeline diversity is impressive
Notable turnover in scientific leadership
Notable executive compensation
1) Could be the largest biotech IPO in US history at a potential valuation north of $7 billion
Whether or not this deal is successful, investors must be prepared for a high profile transaction with a valuation that outstrips any notion of what a traditional biotech IPO might be. If the company succeeds in raising $500 million, it would be the largest IPO ever achieved by a biotech company in the US. As mentioned, Moderna has been remarkably successful in raising money as a private company. The most recent round was a $125 million Series H preferred equity financing in May 2018 by Merck MRK in conjunction with an expansion of the companies' collaboration in cancer vaccines that was begun in 2016. Earlier this year in February 2018, Moderna raised $500 million in a Series G round that valued the company at $7 billion, according to Pitchbook.
From inception to Sept. 30, 2018, Moderna has raised over $2.6 billion in total funding, including $1.8 billion in equity financing and $800 million in upfront payments, milestone payments and option exercises from its partners AstraZeneca AZN, Merck, Alexion ALXN and Vertex VRTX. For the trailing 12 months ended Sept. 30, 2018, the company had collaboration and grant revenue totaling $191.6 million, with an operating loss in that period of $302.1 million. Moderna has $1.2 billion in cash, cash equivalents, restricted cash and investments, as of Sept. 30, 2018.
2) The science of messenger RNA has the potential to serve as a platform technology across multiple disease areas
Messenger RNA (mRNA) is the molecule that transports and transfers genetic information in the cell from DNA to the ribosomes, where proteins are made. Rather than developing small molecule therapeutics or traditional biologics such as recombinant proteins or antibodies, Moderna has been focused on mRNA—specifically, on the creation of mRNA sequences that cells would recognize as if they were produced in the body. The company is developing therapies in which enabling targeted cells to produce one one or more given proteins would enable the body to fight or prevent a given disease.
Source: Moderna
3) Pipeline diversity is impressive with 21 programs
Moderna boasts depth and breadth in its pipeline with 21 developmental programs across six different areas, or modalities, including prophylactic vaccines, cancer vaccines, intratumoral immuno-oncology, localized regenerative therapeutics, systemic secreted therapeutics and systemic intracellular therapeutics. The company has one candidate in its localized regenerative therapeutics program in Phase 2 trials for myocardial ischemia; nine programs are in Phase 1 trials; 11 programs are in preclinical development.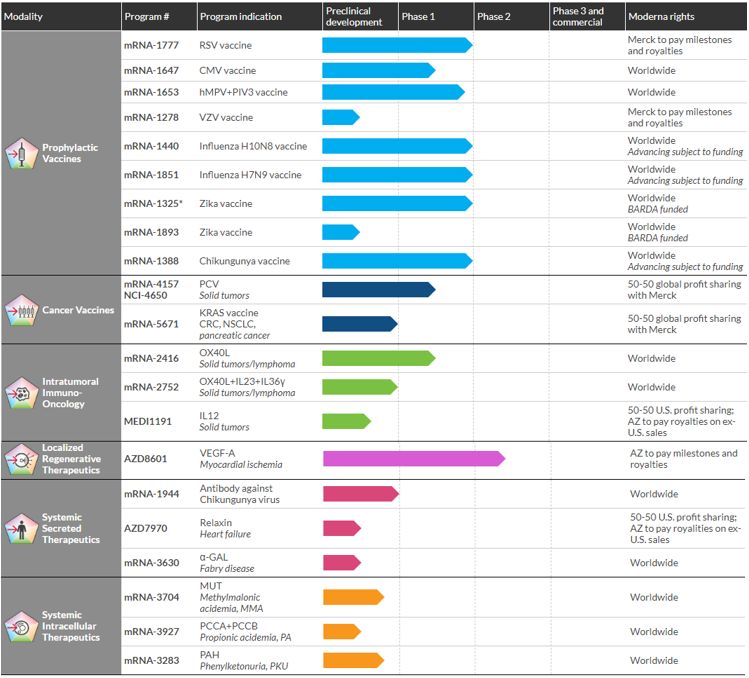 *Life -cycle to mRNA-1893
Abbreviations: AZ, AstraZeneca; ?-GAL, alpha galaxtosidase; CMV, cytomegalovirus; CRC, colorectal cancer; hMPV, human metapneumovirus; IL12, interleukin 12; IL23, interleukin 23; IL36?, interleukin 36 gamma; MUT, methylmalonyl-CoA mutase; MSCLC, non-small cell lung cancer; PAH, phenylalanine hydroxylase; PCCA/PCCB, propionyl-CoA carboxylase subunit A/B; PCV, personalized cancer vaccine; PIV3, human parainfluenza 3; RSV, respiratory syncytial virus; VEGF-A, vascular endothelial growth factor A; VZV, varicella zoster virus.

Source: Moderna
4) Notable turnover in scientific leadership
Moderna has grown rapidly to 680 employees, but the turnover at the executive scientific level has been a source of some concern among observers. In a 2016 profile of the company, StatNews highlighted several departures including:
Head of Research and Development Joseph Bolen, former Chief Science Officer at Millennium Pharmaceuticals, after two years
Chief Information Officer John Reynders after one year
Head of cancer program Michael Morin after less than 18 months
Head of rare disease program Greg Licholai
Two heads of chemistry in a single year
Head of manufacturing
In October 2017, the Boston Business Journal highlighted several other departures including:
Another head of chemistry Matthew Stanton
Head of cardiovascular and metabolic diseases Barry Ticho
Head of rare disease program Arian Pano.
In August 2018, the Boston Business Journal also cited the departure of:
Head of oncology Ted Ashburn after less than a year
While turnover is not uncommon at the executive ranks of course, many of these names will be familiar to readers who follow biotechnology closely. We think it's fair to wonder why so many senior scientists left or were asked to leave. Damian Garde, author of the 2016 StatNews profile, wrote of Moderna's CEO, "Bancel is sprightly in describing the company's future, but his tone hardens on the topic of its formative years — Moderna 1.0, as he calls it. 'The people in the 1.0 team who did not really live the mission ended up either leaving or being asked to leave because they were not accomplishing what we needed them to accomplish,' he said."
5) The Form S-1 reveals notable executive compensation levels
Page 308 of Moderna's IPO registration statement discloses last year's compensation for Mr. Bancel along with Stephen Hoge, MD, President, and Lorence Kim, MD, CFO. While eye-popping executive compensation levels are not, by themselves, reason for concern, and while we certainly recognize that Moderna is not by any means a typical biotech startup, it is still unusual to see such levels for a company at this stage of development. Dr. Hoge's numbers are particularly notable, with a total value last year of salary, bonus and options worth nearly $24 million. By way of comparison, Mr. Robert Bradway, Chairman and CEO of Amgen AMGN—the biotech bellwether which made $10 billion in operating income in 2017 on $23 billion in revenue—made less than $17 million last year.

Source: Moderna Form S-1
Moderna is certainly to be commended for raising $2.6 billion in equity and partnership funding to date, and this proposed IPO has been on investors' wish lists for a very long time. The science of mRNA may indeed become a broadly viable platform for drug discovery, and Moderna's pipeline breadth and depth are extraordinary. We do think the turnover in scientific leadership is a concern, though we are aware that many in the industry applaud Mr. Bancel's management style and approach. We also believe that the compensation levels for the senior leadership are notably high. We'll be watching this one closely, of course, as it may well be a landmark transaction for the industry.
Please email us at [email protected] to see our Case Studies and Testimonials.
Please click here for information on our new trading platform.
Please click here to receive our free daily newsletter.