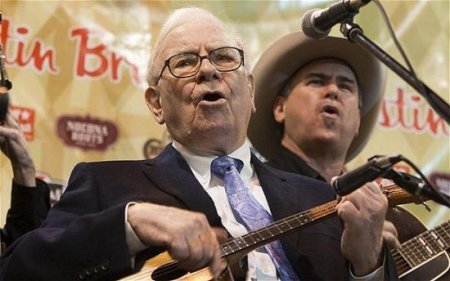 With the recent publication of his fiftieth annual letter to shareholders, I have seen dozens of articles about investing legend Warren Buffett and his accomplishments.
What bothers me about such articles is the inevitable disclaimer, "Of course you can't be Warren Buffett, but here are some takeaways of note…"
Why not?
Why can't you be Warren Buffett? He didn't emerge into this world with billions of dollars or a multinational conglomerate already in hand – he was a normal kid with a paper route. Warren started his investing business in a home office and stayed there for years, sitting at a desk and reading the same company reports that are now instantly available online (he had to contact the companies and request to have them sent by mail).
Granted, you are unlikely to beat Warren Buffett's track record, but I believe you can improve your financial security by following his guidance. Most people seem to just admire his results, ignoring that he is giving specific advice that can be followed, regardless of account size. Here are just a few basic guidelines from Warren that, if followed, will put you ahead of 99% of professional investors:
1) Only Buy When a Stock is Undervalued – There is one, and only one reason you should ever buy a stock: because it is selling for less than it is worth. This should be your effort and your focus. It has guided my own thinking ever since I first read it.
2) Read 500 Pages Every Day –The way you figure out if a home is undervalued is by studying the prices and details of countless homes to get a sense of comparison, and the same is true for finding undervalued companies. Warren reads voraciously, and so does every successful investor I have ever met.
3) Examine a Company's Track Record – Buffet once said, "We never look at projections, but we care very much about, and look very deeply at, track records." The best guide to how companies will do in the future is found by looking at how they have done in the past, not from making guesses and estimates that are no better than coin flips. Now you know what to read.
4) Have Confidence in Quality Companies – "With a wonderful business, you can figure out what will happen; you can't figure out when it will happen....If you're right about what, you don't have to worry about when," says Buffet. Warren waited four years before his purchase of stock in Washington Post stock reached the break-even point, and over the following decades it became one of his most successful investments. Relax, and stop worrying about what the market is going to do.
5) "Investing is 90% Temperament." Another sage Buffet quote. Your goal is to benefit from exponential growth over time, and you have to have the patience to let that compounding accumulate. All the time you used to waste worrying about the market can now profitably be put to use reading.
Others have followed Warren's example with spectacular results and have written about their experiences. Mohnish Pabrai is Managing Partner of Pabrai Investment Funds and the author of The Dhando Investor, a very accessible book about both the philosophy and mechanics of investing. Guy Spier, managing Partner of Aquamarine Capital (and a classmate of mine from business school) is the author of The Education of a Value Investor, one of the few books focused on investor temperament, which Buffett said is 90% of the game.
I recommend both authors to anyone who seeks to become a more thoughtful and more successful investor.
DISCLOSURE: The views and opinions expressed in this article are those of the authors, and do not represent the views of equities.com. Readers should not consider statements made by the author as formal recommendations and should consult their financial advisor before making any investment decisions. To read our full disclosure, please go to: http://www.equities.com/disclaimer