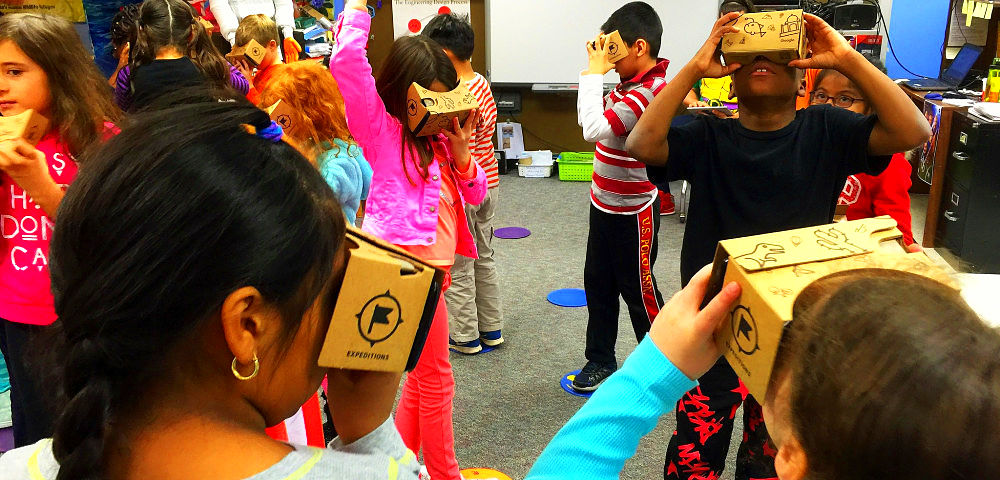 Image via K.W. Barrett/Flickr CC
The merging of education and technology transforms the classroom into a place where kids can learn at their own pace using tools they're already familiar with. EdTech saw some significant developments in 2016. That trend continues in 2017.
With the launch of Google Expeditions, schools can take students on virtual field trips to just about anywhere, including Machu Picchu and even the International Space Station.
When costs and geographical constraints are an issue, virtual field trips can help students expand their knowledge and learn in new ways.
Google (GOOGL) isn't the only one tapping into the power of virtual reality (VR) to improve the classroom. Nearpod is working on technology that combines VR and lesson plans. The technology will allow students to explore places they can't go in person and also visit places in the distant past.
---
---
Schools aim to give students the tools they need to succeed outside of the classroom. Students will need important skills, like learning how to collaborate and work with others as a team, in the workplace.
Collaborative tools, like online calendars, Google Docs and virtual classrooms, can help students become familiar with these technologies and become active team players.
Some classrooms are using Skype (MSFT), texting and email to help students keep in touch with classmates.
Schools are also using technology to get children to and from school more efficiently. Companies like Transfinder are developing tools that help schools keep track of where their buses are, find the most efficient routes and even manage field trips.
Children learn in different ways and at different paces. Personalized learning has come a long way in recent years, and advancements will only continue in 2017.
Personalized learning combines technology, face-to-face teaching and collaborative tools to accommodate a student's learning style. Instruction, expression of learning and assessment are all tailored to the student's needs and learning style.
The popularity of robotics and the maker movement has brought coding and programming into the classroom. Expect to see more children engaging in coding activities and programs. Even the youngest learners will likely be involved in coding-related activities.
Some classrooms are also using coding across multiple subjects to stimulate computational thinking.
As technology continues evolving, we're likely to see more changes to the classroom, which has become increasing flexible and engaging for children in the last decade. These technologies will help children learn in their own way and enjoy their time in the classroom.
DISCLOSURE: The views and opinions expressed in this article are those of the authors, and do not represent the views of equities.com. Readers should not consider statements made by the author as formal recommendations and should consult their financial advisor before making any investment decisions. To read our full disclosure, please go to: http://www.equities.com/disclaimer