The global temperature sensors market is anticipated to attain USD 6.13 billion by 2020, according to a report by Grand View Research, Inc. Rising demand for smart consumer electronics and automotive products is expected to drive market growth from 2012 to 2020 (forecast period). Advent of microtechnology and nanotechnology to correctly display measurements is touted to pave open new growth avenues.
New-generation Sensors to Pave Open Growth Opportunities
Raw materials such as langasite and lithium-niobate to increase efficiency and durability of temperature sensors can bode well for the market. Utilization of silicon sensors due to their easy availability and low costs can influence market volume in the forthcoming years. Multisensors used in mass applications due to their stability can augur growth of the market for temperature sensors. High need in microelectromechanical systems (MEMS) coupled with rapid technological advancements can purportedly augment market size in the years ahead.
Global MEMS market by application, 2014 – 2024 (USD Million)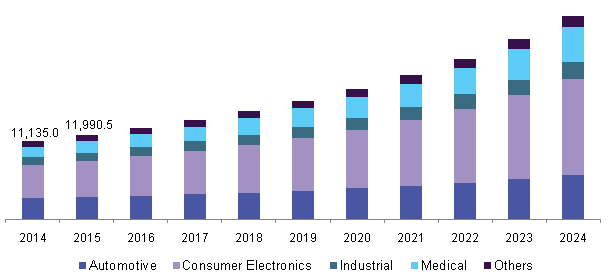 Image Source: Grand View Research, Inc.
Development of new-generation sensors capable of detecting internal and external hotspots can pave open new growth opportunities for the market. In April 2018, On Semiconductor, a U.S. based company, has integrated temperature sensors in its production of complementary metal–oxide–semiconductor (CMOS) image sensors. CMOS sensors have application in smartphones, digital cameras, and surveillance cameras.
North America CMOS image sensor market revenue by application, 2012 – 2020 (USD Million)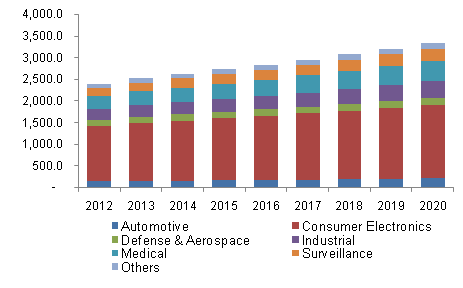 Image Source: Grand View Research, Inc.
Advent of silicon on sapphire and wireless technologies and its high demand in electronics and electrical sectors can bring about a significant development in the temperature sensors market. Popularity of wearables and rise in smartphone users are bound to play a huge role in the forthcoming years. Favorable regulations emphasizing on safety are anticipated to boost market growth over the forecast period. However, intense competition and resulting price wars among industry players can pose a challenge to the market.
Rising Automobile Production to Favor Market Expansion
The worldwide temperature sensors market is fragmented according to application and region. Major applications include process industries, healthcare & medical, consumer electronics, environmental, automotive, and others. The consumer electronics and environmental segments are touted to exhibit a significant growth rate over the forecast period. Integration of polymers in consumer electronic products to lower its cost and size can spur market demand. Integration of temperature sensors in electronic devices such as Blu-ray players, scanners, printers, and gaming consoles to enhance performance can bode well for the market in the long run.
Global temperature sensors market by application, 2012 – 2020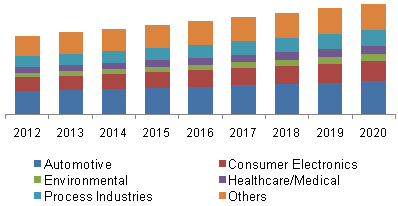 Image Source: Grand View Research, Inc.
The automotive segment is anticipated to contribute to market revenue owing to rise in automobile production. Application of temperature sensors in air intake, cylinder head temperatures, and coolants can bode well for the market. Peak sales of industrial robots coupled with demand for automation to lower manufacturing costs are likely to drive segment demand. Result of high-quality products coupled with zero manufacturing errors are anticipated to induce demand for thermal sensors.
The industrial segment can exhibit a significant growth rate during the forecast period owing to its demand in instruments requiring high accuracy. Sensors are also integrated in equipment to measure volume and temperature of industrial processes. Industries such as refineries, food manufacturing, and petrochemicals can propel demand in the coming years. The medical segment is set to display a healthy growth rate owing to requirement of temperature-sensitive devices for manufacture, storage, and handling of drugs and vaccines.
Demand for High-performance Sensors on the Rise in Emerging Regions
Regions covered in the market report include North America, Asia Pacific (APAC), Europe, and Rest-of-the-World (RoW). The APAC market accounted for over 30% demand in 2014. It is expected to exhibit a decent growth rate from 2014 to 2020. Demand for miniature sensors in handheld portable devices and breakthroughs in sensor technologies are expected to spur market growth in the forthcoming years. Emerging economies such as Japan, China, and India coupled with investments in sensors can positively impact the market.
Prominent companies in the global temperature sensors market include NXP Semiconductors; Delphi Automotive; Siemens AG; Honeywell International Inc.; and ABB. Market players are establishing manufacturing units in regions with low labor costs in a bid to lower manufacturing costs. Differentiated services can play a huge role in determining the success rate of strategies. In June 2013, Audi AG, a prominent car manufacturer, selected Analog Devices, Inc., in its Progressive Semiconductor Program (PSCP) to create an open channel for engagement between Audi and selective semiconductor suppliers.