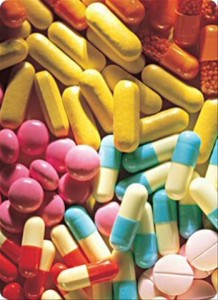 Investing in biotech is tricky business. The risk factor of getting in early, prior to FDA approval or final testing means major margins as much as much as it does high risk. In spite of the potential for loss, many investors who are able to play their cards right in biotech companies are able to bring in huge profits when a company they bet on early receives an approval or debuts a new treatment for a formerly confounding virus or disease. The three stocks below may not be for the risk-averse among us, but developments at these corporations point to profit potential.
Vertex Pharmaceuticals Inc, (NASDAQ: VRTX) a pharmaceutical company concentrating on small molecule drugs for a large range of ailments is expected to continue the climb that began when positive results returned from late stage testing with hepatitis C-drug telaprevir. Telaprevir has remained in the news and since received FDA approval.  On May 23, the drug may get U.S. regulatory approval. If it's granted, a major upside could be in the near future.
Among supporters of the stock, Goldman Sachs has been bullish, suggesting the possibility of a very near-term upside as well as the potential for M&A with the company in the aftermath of the  potential approval. If Vertex is purchased shares are expected to climb as high as $87.00. It was up 5.70 percent today to $57.65.
Dendreon Corporation (NASDAQ: DNDN) does not have the benefit of being a potential M&A target like Vertex but that doesn't meant it doesn't have potential otherwise. The majority of the biotech company's business centers on cancer treatment therapeutics. Among the drugs is their arsenal is Provenge, the use of which continues has been on the rise. A report in early May from the company indicated 135 accounts integrating the treatment and optimism that they would meet their goal of 225 by the completion of the second quarter. The positive news led to more bullish sentiments about the stock.
Johnson & Johnson (NASDAQ: JNJ) Johnson & Johnson was in the spotlight  through April as rumors swirled that the company would purchase Swiss-device maker Synthes. After the deal was completed, shares of the stock went up considerably though they have since cooled off. The purchase of Synthes though is more than just an opportunity for investors to sell and make a quick buck. Granted, the stock doesn't have the short-term upside of Vertex anymore, but they have something else, a handle on a an emerging market. The acquisition of Synthes will help J&J to become the leading provider of prosthetic hips as well as knees and with the baby boomers calling for more surgeries of this kind, business has the potential to boom over the next several years.
DISCLOSURE: The views and opinions expressed in this article are those of the authors, and do not represent the views of equities.com. Readers should not consider statements made by the author as formal recommendations and should consult their financial advisor before making any investment decisions. To read our full disclosure, please go to: http://www.equities.com/disclaimer