3 Key Trends Ushering in the Next Age of Car Safety
Howard Goldstein Follow |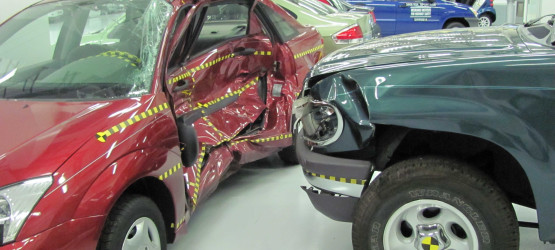 At the end of 2016, the Insurance Institute for Highway Safety (IIHS) released the annual list of cars with the highest safety ratings. Less than half of the 200 cars in the annual evaluation were rated and grouped into different safety categories. Vehicles from Toyota (TM) were among the 38 models that received the Top Safety Pick + rating, IIHS' rating for models with the most advanced safety characteristics.
Car safety has always been an important issue for car buyers, insurance companies, and local and federal authorities. It has been getting better over the past couple of years, thanks to improved regulations and of course, technology.
Every indication is that this trend will continue unabated into the next decade, resulting in significant reduction in death, injury and property damage related to vehicular accidents.
And here's why.
Self-driving Cars
In testing since 2010, autonomous cars have not only proven driverless cars will be a mass reality, but also the fact that they will be safer than human-controlled cars. Driverless cars could eliminate as much as 90 percent of injury and death caused by human error on the road, helping cut down on the more than 30,000 deaths on American roads each year.
Self-driving cars had a little shaky start when they first hit American roads about 7 years ago. For instance, the Google (GOOGL) self-driving car had a high number of crashes early on but has shown significant improvements on the road. Tesla's (TSLA) Autopilot has even saved the lives of drivers and passengers in several occasions, with this collision-saving maneuver by Autopilot captured on camera serving as a prime example.
The first fully-autonomous car will not be available until around 2020, but the technology will help make cars safer as we inch closer to full automation.
Safety Ratings
The 2015 IIHS test for 2016 cars ranked 48 cars within the Top Safety Pick + category. The 38 cars in the 2016 test were lower than the previous record, and headlights are to blame. IIHS assessed how well headlights on different models can improve night driving and help drivers to spot hazards. Headlights were actually the difference between cars in the Top Safety Pick + category and the next category.
Many safety precautions that were previously exclusive to high-end models are now becoming standard on regular cars. For instance, things like adaptive cruise control and lane assist are being factored in as standard safety amenities in different parts of the world.
Autonomous Emergency Braking
Autonomous Emergency Braking (AEB) is a revolutionary combination of technology that enables vehicles to automatically detect obstacles using installed sensors and apply brakes when the driver fails to do so.
Like many other modern safety technologies, AEB was once exclusive to high-end models of cars such as the Mercedes-Benz S-Class. But the technology is slowly becoming more common across the globe. For instance, in 2013, the European Union passed regulations requiring all new commercial vehicles come with AEB as standard.
And in the US, automakers, the IIHS, and the U.S. National Highway Traffic Safety Administration agreed to have EBS installed on all vehicles as standard by 2022, which will be a major milestone for road safety.
Going forward, car safety will continue to be a major talking point as different facets of technology and policy evolve and interact with one another.
DISCLOSURE: The views and opinions expressed in this article are those of the authors, and do not represent the views of equities.com. Readers should not consider statements made by the author as formal recommendations and should consult their financial advisor before making any investment decisions. To read our full disclosure, please go to: http://www.equities.com/disclaimer.
Companies