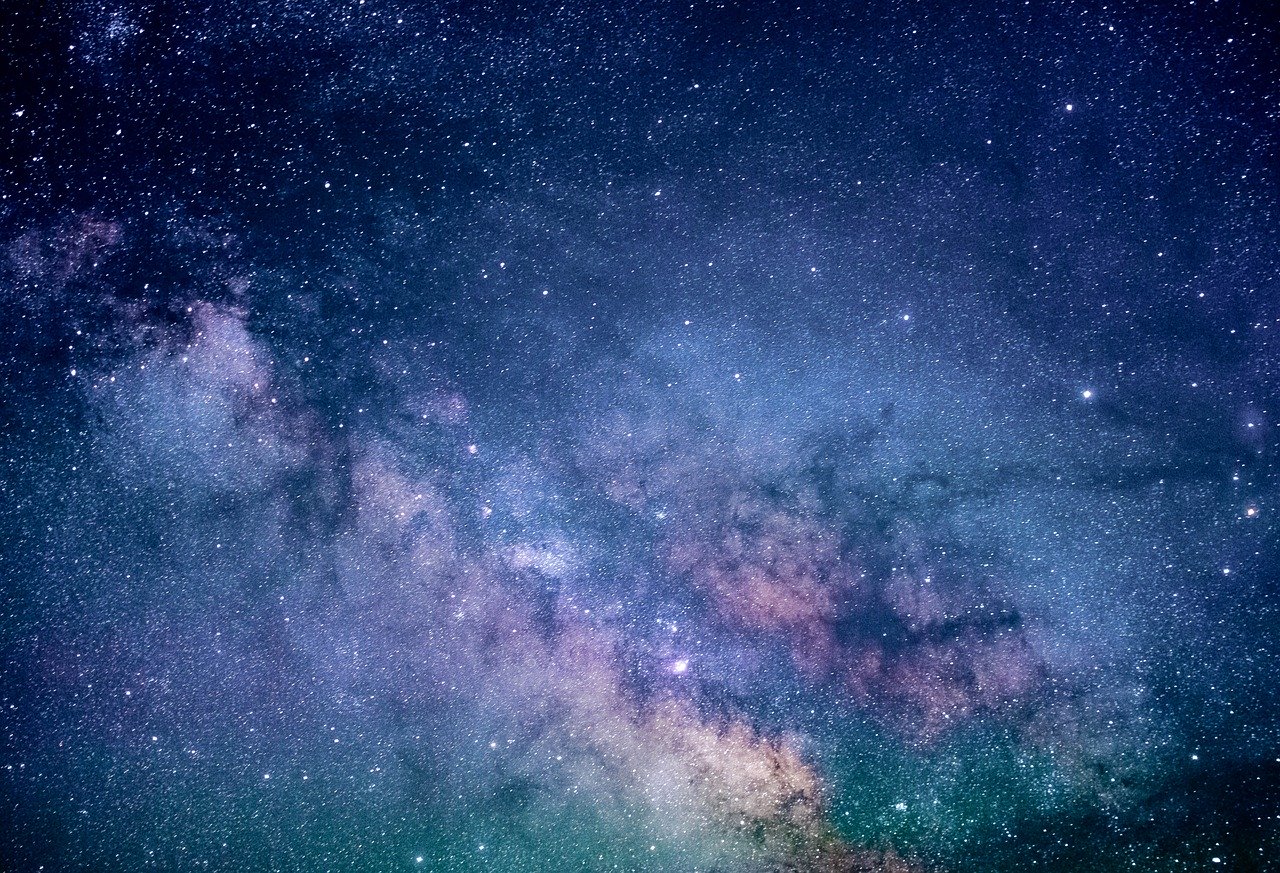 Source: Pixabay, Pexels
Douglas Adams wrote the smashingly popular science fiction series called The Hitchhiker's Guide to the Galaxy. The Guide itself reportedly was an intergalactic bestseller and had a simple motto inscribed with large letters on its front cover: "Don't Panic."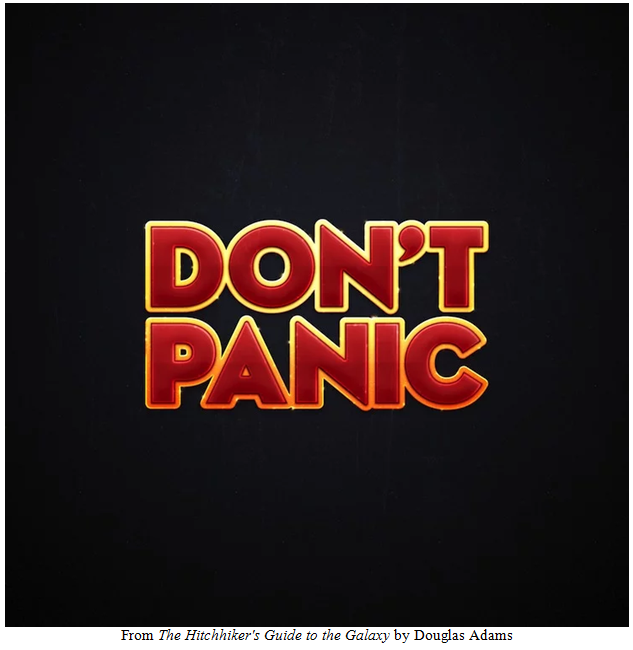 Despite being a science fiction novel, The Guide can probably serve us well in navigating the uncharted repercussions of the coronavirus panic in the financial markets. Fed Chairman Jerome Powell may very well be a Douglas Adams fan, as I do not recall ever seeing a shorter and more pointed statement on the coronavirus panic – or any plainer statement ever issued by a Federal Reserve Chairman than what he issued last Friday. The whole Federal Reserve press release was one paragraph of four short sentences: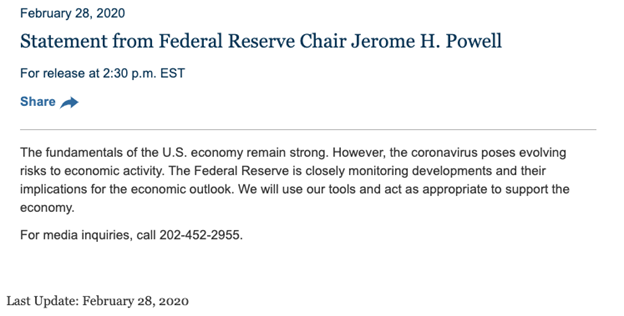 One of Chairman Powell's predecessors, Alan Greenspan, was famous for rambling endlessly, with disjointed paragraphs that required scientific study to parse their true meaning. The way he spoke and wrote was famously nicknamed "Greenspeak" by financial journalists who gave up on trying to clarify Greenspan's points. What the Federal Reserve released last Friday is the very antithesis of Greenspeak.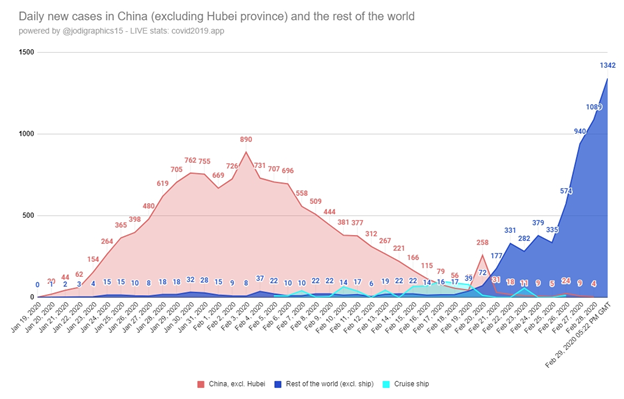 From an economic perspective, the coronavirus scare is a "supply shock" to the system, and, in that regard, it is similar to a bad trade war that has spiraled out of control. Quarantines shut businesses down, so the key to how bad it gets is how fast these businesses can reopen. Interest rates are not the greatest tool to deal with trade wars, and, in that regard, the Federal Reserve has limited tools at its disposal.
It needs to be pointed out that new Covid-19 cases in China outside of Hubei Province have gone down dramatically, so quarantines work, and in very short order. The Chinese government got serious with quarantines in Wuhan and Hubei in late January. The ban on travel in and out of Wuhan started January 23 and expanded to other affected areas of Hubei. Other regions have seen less severe restrictions.
It is pretty clear that the present panic in financial markets is about the spread of Covid-19 outside of China. It is not yet known if Covid-19 will follow a normal influenza pattern – that is, it will fizzle out with warmer weather, which usually starts in March in the Northern hemisphere. By June the normal flu is typically gone – as was the SARS virus by June of 2003.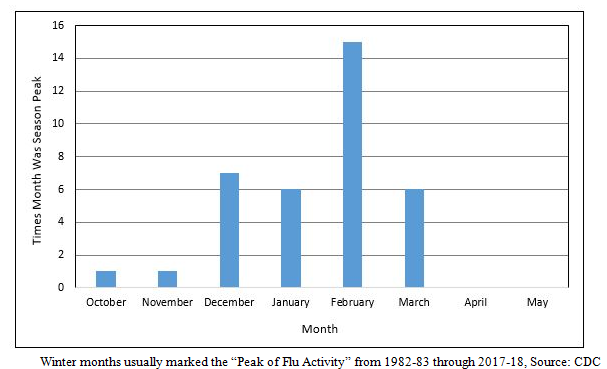 If new cases outside of China begin to decline steadily, the stock market should stage a fierce rally, but we are not at that point yet. Clearly, the rosy forecasts from January, when earnings growth in the S&P 500 was due to accelerate, will be out the door, but it is possible that the coronavirus jolt to the system will cause much faster EPS growth in 2021 if Covid-19 did what SARS (a more deadly but less contagious coronavirus) did in 2003, that is, follow a normal flu pattern with necessary preventive measures.
My 1% Target on the 10-year Treasury is at Hand
My longstanding target of 1% on the 10-year Treasury may very well be reached this month. When I first rolled it out, there was no Donald Trump in the White House or coronavirus menace. (For more, see July 14, 2016 Marketwatch: "What happens now that Treasuries hit their target?") Everything I wrote in July 2016 is still very much with us, but in this case the Treasury market is reacting to the coronavirus shock.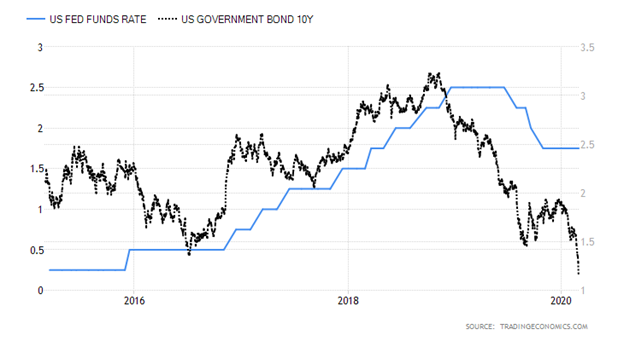 The good news is that the market-driven definition of the yield curve (the 2-10 spread) is not yet inverted. Technically, that means that Treasury bonds do not yet "forecast" a recession. The 2-10 spread has actually steepened in the past week. The 10-year closed on Friday at 1.17% while the 2-year closed at 0.97%. With the fed funds rate at a range of 1.50-1.75%, though, what the Treasury market is saying is that the Fed will need to cut its policy rate shortly, possibly more than once or by 50 basis points.
It also needs to be pointed out that many coronavirus beneficiaries – like stay-at-home stocks and even Clorox (CLX), whose bleach and disinfectant wipes are in high demand – had high-volume reversals on Friday, even before the Fed statement. So did the price of gold, so the stock market is trying to bottom.
Navellier & Associates does not own CLX in managed accounts or a sub-advised mutual fund. Ivan Martchev does not own CLX in private accounts.
There was no hint of a recession on January 1, 2020, with the U.S. economy picking up steam. Covid-19 has changed all that. If it follows the normal flu pattern, there won't be a recession in the U.S. and the stock market and earnings growth will normalize. If it keeps spreading, however, all bets are off.
_____
Equities Contributor: Ivan Martchev
Source: Equities News