SCYNEXIS, Inc. SCYX, traded higher today, but the real story here is the sheer volume happening in the stock with big dollar liquidity with upwards of $20 million dollars of stock changing hands. This unique liquidity event is often overlooked as an important way to keep all sorts of investors interested.
If you think about the players who come to the party, you get the algorithm traders, the front running high frequency (HF) traders and a smattering of value buys and those just drawn to volume. Plus, you also have the issuer who is willing to convert paper to fiat.
Image from the Company Presentation
Trading the Volatility
We used to "look for trouble" when manning the trading desk and things were boring comments like, "what can we get in trouble trading today, kinda thing" and then go wade in the deep end of the pool.
FURI is a Phase 3 open-label study evaluating oral ibrexafungerp as a salvage treatment in patients with difficult-to-treat mucocutaneous and invasive fungal infections that are refractory to or intolerant of currently available standards of care.
Following the announcement of these results, Dr. Marco Taglietti, Chief Executive Officer of SCYNEXIS, commented, "first, we fulfilled our ethical responsibility to justify the testing of oral ibrexafungerp in this patient population. Second, we showed that ibrexafungerp, administered orally, is effective in treating mucocutaneous and invasive fungal infections that do not respond to other therapies, including those administered intravenously."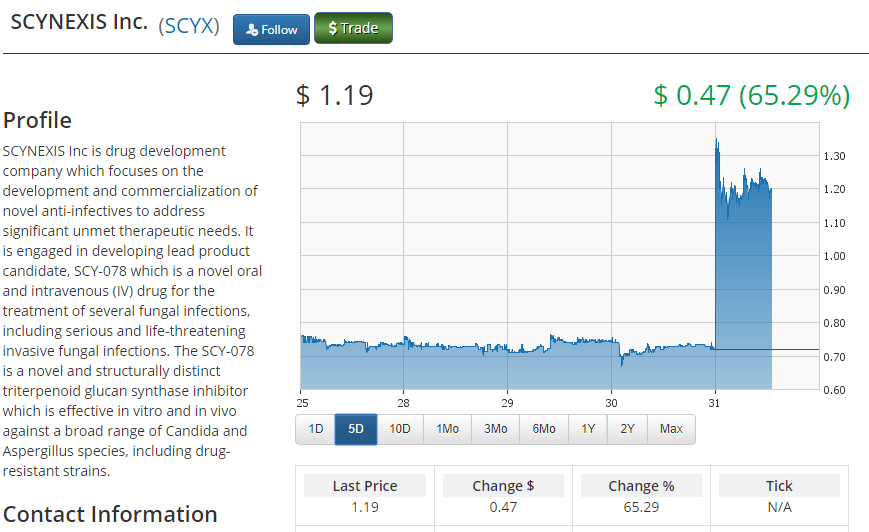 "2018 was a critical year for our company with the positive results of our Phase 2 DOVE study in VVC, and we enter 2019 in a position of strength with ongoing clinical activities for oral ibrexafungerp in a variety of indications," said Guy Macdonald, Chairman of the Board of SCYNEXIS. "As we near an initial NDA filing in VVC, anticipated in the second half of 2020, and as we continue developing treatments for hospital-based invasive fungal infections, we are excited to leverage Armando's broad expertise, insights and guidance. On behalf of my fellow Board members, I would like to welcome Armando and look forward to his contributions as we carry out the important work of bringing novel antifungal treatments to patients."
We normally (about 95% of the time) would have zero idea what the company did or why, it was just simply a way to make bets on stocks running amok and seeing if we could bite off a chunk. Trading is the original Shark Tank without having 4 sitting in chairs listening to a presentation.
Trading is – go buy or sell it – and figure out later what they do and why. Your instinct in watching the trade action and the prints will tell you what to do. I liked getting in trouble, but hated it when I got reprimanded for doing incredibly stupid out-sized risks that didn't fit our overall portfolio strategy – often it was like touching a stove.
I keep these on my radar for a few months, you see patterns of trading over and over and before you know it, you know the story behind the stock as it pops up again on your radar.