Companies are taking longer to go public then ever before. One of the key reasons for this trend is that private companies, and the employees that work for them, have the ability to sell their shares privately on secondary market. So, what does this mean?
Sites like Sharespost, Nasdaq Private Markets, and Equidate have private shares in companies like Airbnb, Uber, Palantir, and many others. They act as a broker between the company's current shareholder, who are mostly employees and founders, and accredited investors interested in these companies pre-IPO. NYSE ACE which is a portal focused on Private Placements and not a secondary private trading market.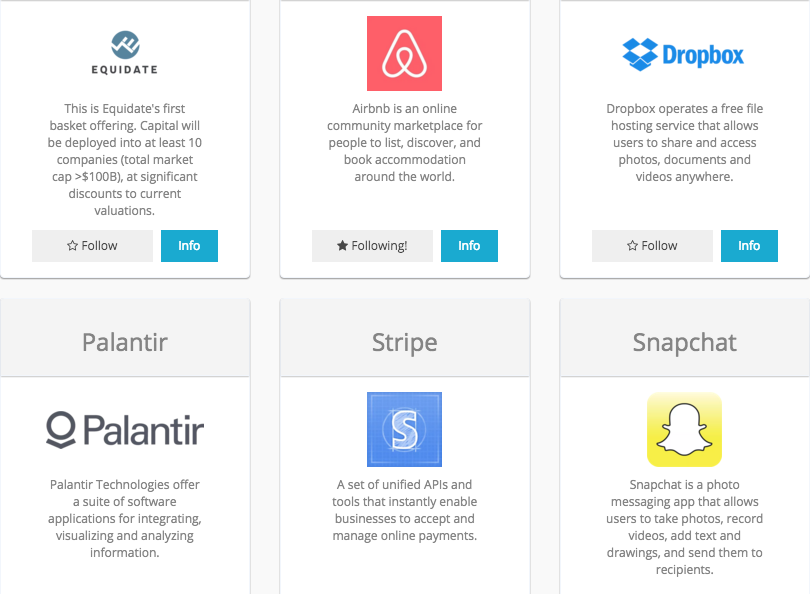 So if your not an accredited investor. Sharespost has a fund that you can invest in called the Sharespost 100. This fund is a private fund that allows a diversified investment into the 100 private companies that are clients of Sharespost. This makes for a safer bet but with a limitation on the upside because some of these firms, who are unicorns are not going to make it at the levels that they are valued at currently.
When you consider a private investment. You can do many things. There is Angelist and the crowdfunding websites that are more for seed stage investing. So when you consider what you want to invest into, the seed stage is more like a Shark Tank type of investment, vs the Sharespost 100 is late stage investment.
This is just the beginning. Whether your interested in late stage or early stage, in 2016, the private market for securities will begin to see much more activity than anything else in the past. Secondary markets, blockchain capital tables, general marketing of private deals will become an integral part of the next generation of investable assets.
DISCLOSURE: The views and opinions expressed in this article are those of the authors, and do not represent the views of equities.com. Readers should not consider statements made by the author as formal recommendations and should consult their financial advisor before making any investment decisions. To read our full disclosure, please go to: http://www.equities.com/disclaimer