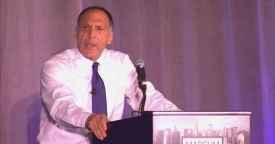 The Marcum MicroCap Conference marked the conclusion of its annual conference on Thursday. The conference brought together members of the investment community and corporate executives in an effort to highlight early stage growth companies in technology, energy, life science, and other industries.
Hosted by Marcum LLP, an independent accounting and advisory services firm founded in 1951, the Conference is designed to provide a forum in which publicly traded companies with market capitalizations under $500 million can network with the investment community.
This year, the Conference took place at the Grand Hyatt Hotel in New York City and attracted more than 1,000 participants. Participants and media looked forward to seeing the first public appearance of former Lehman Brothers chief Richard Fuld since its collapse, and he did not disappoint as the Conference's keynote speaker.
Fuld said he had "no regrets" about his actions at Lehman, and that "there's not a day that goes by that I don't think about Lehman. But I have to move on." Part of his moving on consists of launching Matrix Advisors, a company that provides capital to companies in the form of share ownership instead of loans. Fuld explained that "we don't put up capital, I lost a lot of that stuff." To date, Matrix Advisors has focused on advising companies and has been involved in helping them with growth finance transactions.
Beyond discussing Matrix, Fuld offered his thoughts on the current economic climate, focusing on wealth inequality. He said "I know you don't want to hear this from me, but the wealthy are getting wealthier...look, I'm a hardcore capitalist. But let's be fair — capitalism only works if it starts at the top and filters down." Fuld elaborated that he "[doesn't] want to get political...but we need new leadership [in the White House]."
Beyond hearing from Fuld, Conference attendees attended presentations and panel discussions led by CEOs and CFOs from six principal industry sectors, including Technology, Media & Internet; Software & Business Services; Life Science & Healthcare; Retail & Consumer Products; Energy & Natural Resources; and Industrials. Most attendees were fund managers and other high net worth individuals looking to find the next investment opportunity.
**Ari Zoldan was on location in New York, NY for this assignment.
DISCLOSURE: The views and opinions expressed in this article are those of the authors, and do not represent the views of equities.com. Readers should not consider statements made by the author as formal recommendations and should consult their financial advisor before making any investment decisions. To read our full disclosure, please go to: http://www.equities.com/disclaimer