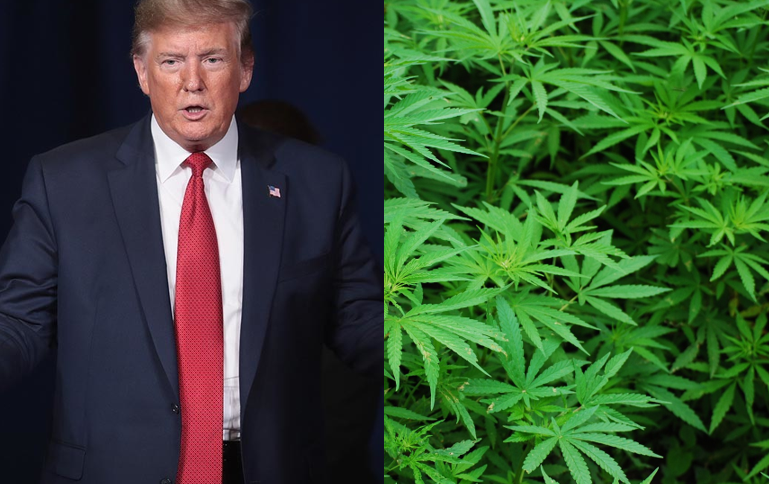 The cannabis industry is far from immune to President Trump's ongoing trade war with China. Looking at the numbers, medical marijuana patients and even state legislators will have to account for the tariffs – and there are very little lobbyists in Washington beating the drum for a barely legal industry.
Vaporizers see the biggest impact
To start, tariffs first hit the cannabis industry as partly assembled consumers goods, including vaporizer cartridges, glass jars with plastic lids, and preroll tins saw a 10% tariff added to their cost on Sept. 24, 2018. Then on May 1, 2019, after bilateral talks broke down, the Trump administration bumped that up to 25%.
For medical marijuana patients, vaporizers components and packaging are two areas were Chinese products save U.S. companies money. Since the early stages of the trade war, the actual plastic vaping device, vaping parts batteries, filters and cartridges have been firmly in the crosshairs of tariffs on Chinese products. While most of the liquids and extracts are made in North America, the hardware for vaping devices is imported from China, and tariffs have squeezed retailers, which has in turn increased prices for consumers – specifically, medical patients who require cannabis for ailments like arthritis, PTSD and cataracts. And to be fair, most manufacturers in the United States are not allowed to make vaporizers for cannabis and do not have the ability to do so.
Taking a look at the numbers, in September 2018, an average disposable vape cartridge manufactured in Shenzhen, China, cost US companies $2 wholesale. Under the first round of Trump tariffs, that went up to $2.20 per unit. The 25% tariffs that kicked in on May 1st further increased the wholesale cost of each cartridge to $2.50. A couple quarters might not seem like much. However, when you multiple that for high-volume importers, a million units adds an extra $500,000 to your budget.
Just to reflect on the bigger picture, according to the import-export data tracking website Datamyne, the United States imported $42 million worth of vaporizers or vaporizer parts under the above HTS code from China in 2017 and $800,000 worth of similar products from Hong Kong. The next three closest markets accounted for less than $500,000 in imports combined.
Ancillary services are going up and the black market wins
Earlier this year, Leafly highlighted an interesting story about Aster Farms.
Aster Farms sits in the heart of wine country and its soil has that special 'terroir' for exceptional mouthfeel in a glass of pint noir. The third-generation farmers who run Aster use this soil instead for high-quality cannabis. The Trump tariffs made the company's beautiful pre-roll packages from China pretty much out of reach. "Aster Farms' tins were already designed, produced, and about to ship when Trump's tariffs hit. The change led to a two-month hold on the order, with costs going up," Leafly reported. "'With all the permitting costs and everything that goes into being legal and licensed and getting on shelves in stores, we don't have that extra money sitting around to get hit with a 25% tax out of nowhere,'" CEO Julia Jacobsen said. Furthermore, Aster Farms tried to shift their packaging to the U.S., but cannabis packaging regulations in the U.S. left China as the company's only option. Still establishing a brand identity, Aster Farms and similar producers are not able to pass these costs over to customers. So, small business owners like Aster have less wiggle room thanks to evaporating margins and they are struggling to stay afloat.
Many larger companies will simply just hand those costs over to customers, and this increase in price could bring back the illicit market. "If someone is using cannabis for medicinal purposes and the pricing is already very high—in New York alone, we're looking at a minimum of $60 to $80 for a half-gram cartridge—and if we're looking at the black market, it's two times cheaper," Arnaud Dumas de Rauly, co-CEO of the Blinc Group, told Cannabis Business Times. "People who are using cannabis for medicinal purposes will go back to the black market. That is for sure."
Aster's anecdote really depicts the White House's effects on the ancillary side of the cannabis industry. "If you look at the entire impact that these tariffs will have on the industry, it's pretty big," Dumas de Rauly added. "People tend to think it's going to be just on the vaping hardware side. Of course, that's going to be a big part of it, but … every ancillary business, or at least 95 percent of ancillary businesses, rely on products that come from China."
Vaping pens and packaging are just a few areas of concern as state budgets will also see a pinch. For example, Colorado collected $247 million in cannabis tax revenue in 2017 and 25% of sales came from cannabis vaping products. Other states will see similar losses as vaping cartridges and ancillary services in the cannabis industry just simply are not replaceable in the U.S. yet. Many operator have yet to feel the sting, but Fall is coming fast.