We take time out today to salute the FDA and Federal Trade Commission (FTC) for their ongoing efforts to protect children from the dangers of nicotine and tobacco products. The two agencies jointly issued warning letters today to 13 manufacturers, distributors, and retailers for selling e-liquids used in e-cigarettes with labeling and advertising that cause these products to resemble kid-friendly food products, such as juice boxes, candy or cookies, some of them with cartoon-like imagery. Several of the companies receiving warning letters were also cited for illegally selling the products to minors.
Here's just a sample of the product packaging in question: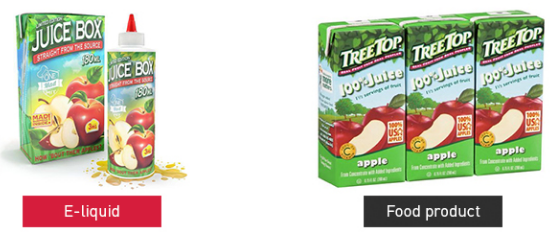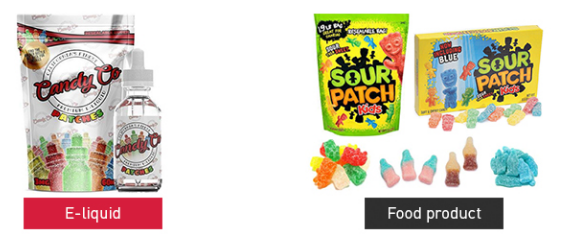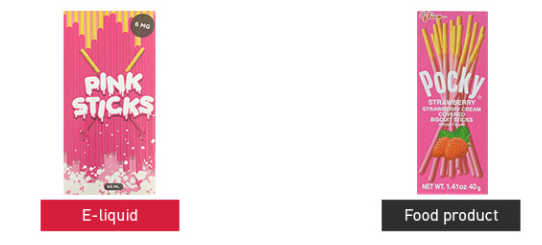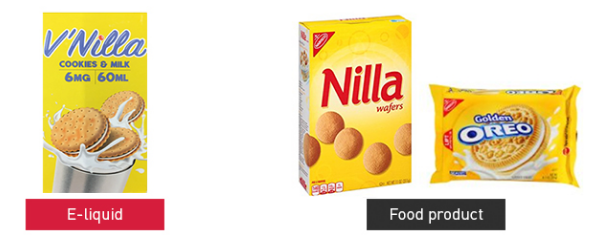 Source: FDA and FTC
Here's a list of the companies that were warned…
NEwhere Inc. d/b/a Mad Hatter Juice
Drip More, LLC
On Cloud Vape
ACH Group, LLC d/b/a Candy Co E-Liquids
7 Daze, LLC
Sugoi LLC d/b/a Sugoi Vapor
Tinted Brew, Inc.
Fog It Up
Cosmic Fog Vapors d/b/a Next Day Vapor Products
Elite Vaporworks
Omnia E-Liquid
Warrender Enterprise Inc. d/b/a Lifted Liquids and E-Liquid Retail
Ultimate Vape Deals
The FDA and the FTC have requested responses from each of the companies within 15 working days. The companies are directed to inform each agency of the specific actions taken to address each agency's concerns. The warning letters also state that failure to correct violations may result in further action such as seizure or injunction.
No child should be using any tobacco product, and no tobacco products should be marketed in a way that endangers kids – especially by using imagery that misleads them into thinking the products are things they'd eat or drink. Looking at these side-to-side comparisons is alarming. It is easy to see how a child could confuse these e-liquid products for something they believe they've consumed before – like a juice box. These are preventable accidents that have the potential to result in serious harm or even death.
Companies selling these products have a responsibility to ensure they aren't putting children in harm's way or enticing youth use, and we'll continue to take action against those who sell tobacco products to youth and market products in this egregious fashion.
– FDA Commissioner Scott Gottlieb, MD
Please email us at [email protected] to see our Case Studies and Testimonials.
Please click here for information on our new trading platform.