Fintech is growing at an exponential rate. Advanced financial technology is changing the way we bank, how we use our money and our dependence on traditional bricks and mortar financial institutions—many of which have remained static for far too long. A report by PwC in 2017 estimated that funding for fintech startups has increased at a compound annual growth rate of 41%, over the last four years, totalling US$40 billion in cumulative investment.
In Europe, a trend is emerging as investors discover opportunities outside of the established fintech hubs in London, Germany and France. Recently, there has been a shift in focus to CEE countries (Central and Eastern Europe), estimated to be worth somewhere in the region of €2.2 billion ($2.6 billion), according to the Fintech Times`s report.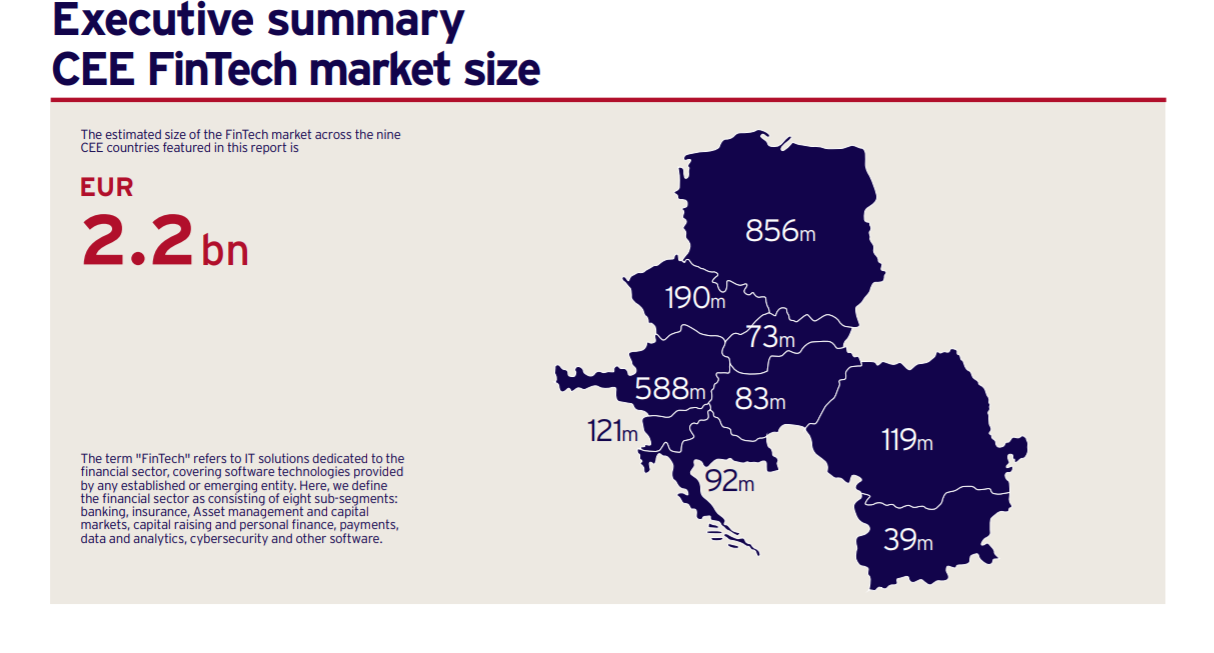 Indeed, with this level of open market potential, high caliber financial leaders like Oleg Boyko, Founder and Chairman of international private equity firm Finstar Financial Group, see this growth in emerging markets in particular as a great blue ocean for investors. Boyko says the "rapid growth in consumer demand across the emerging markets offers exciting opportunities for fintech-enabled disruptive lending technologies." With market-leading expertise, Finstar hopes to capitalize on these emerging trends.
This view that fintech's home ground is changing is backed by other VC investors. Backed by a $100 million fund, Speedinvest's founder and CEO, Oliver Holle, said: "due to the emergence of technical talent and sophistication in this region, his fund will focus primarily on startup investments in the CEE region."
Also, in 2017, the Raiffeisen Bank International launched its FinTech Accelerator Elevator Lab, with the goal of becoming the bank of choice for international fintech startups in the CEE region.
As both new and institutional investors set sail across the blue ocean of fintech, where is the smart money sailing to? Let's take a look at the ten hottest places in no particular order in CEE for fintech startups, and where investors can sniff out a unicorn in its natural environment.
10. Albania
The Albanian fintech scene is still underdeveloped. Despite this, some banks are paving the way ahead: in terms of mobile banking applications the leading Albanian banks are on top of their game and have advanced to a level that ranks them on a par with any global competitor from any mature market. Albanian millennials are very well-educated, hold a command of the English language and are open to digital innovation and excellence, thus Albania is a good target-group for any fintech product. The market there is small, but has all qualities needed to function as a test-market before investing bigger with certain innovative solutions.
9. Macedonia
Macedonia was largely unspoken of in fintech circles until recently, but thanks to a raft of tech-savvy Macedonian teens and their enormously successful online fake news businesses, the country's IT credentials have started to be noticed. Macedonia's population is only a fraction of neighbouring countries like Romania, which host offshore programming bases for multinational tech companies like Microsoft. However, smaller-scale investors—such as UK insurance software developers S4i—are pleased with their decision to base support staff in Macedonia.
8. Serbia
The republic of Serbia, which borders Hungary to the north and Romania to the East, is poised to attract a sizeable chunk of the fintech dollar. Statista reports that the transaction value in the fintech market sums to US$959m so far in 2018, with an annual growth rate of around 17% (US$1,792m by 2022). Its largest portion being digital payments totaling US$895 million.
7. Estonia
Estonia knows which side its economic bread is buttered. Emerging from its 'period of silence', Estonia, has rebranding as a country open for business. After gaining independence in 1991 from the Soviet Union, things changed albeit slowly up until recently. On the first day of May 2004, Estonia, along with nine other countries, joined the largest economic union in the world – the European Union. Then, it launched the first E-residency programme in Europe in 2014, becoming a digital nation. The program is aimed at currying favour with location-independent entrepreneurs like software developers and fintech businesses.
6. Slovakia
Sandwiched between Poland and Hungary, the landlocked nation, is making a lot of fintech noise at the moment. Events like the Fin.TechSummit, are becoming a mainstay for the high-income advanced economy. But, it's not just pizza and catchphrase emblazoned tee shirts that decorate the landscape—first of their kind ideas coupled with industrious entrepreneurial craftsmanship make Slovakia one to watch then for other fintech voyagers. "Slovakia is one of the world leaders in cashless payments. Therefore, mothers of Slovak banks usually use Slovak market for testing of technological innovations as Slovak bank clients are willing to use innovative services and products that have the potential to simplify their lives. The same development can be expected also in the case of fintechs," said Martin Kršjak, Partner KPMG responsible for financial services sector.
5. Bulgaria
Many of the countries that form the Central Eastern European bloc have enjoyed positive economic growth rates in the past decade. The economically sluggish west of Europe, can give praise to its flourishing Eastern neighbours, who inject a much needed stimulus that could be the solution to the EU's growing concerns. A Unicredit report, tells us that Bulgaria is now home to the most fintech companies in Eastern and Central Europe, no mean feat considering its thriving neighbours. Presently, 70 fintech companies are registered there, many of which are pioneers in the transaction, resource management, and investment space.
4. Hungary
Not just for fast-food delivery companies, Hungary is a nation with a maturing pedigree for financial technology know-how. Hungary, and mostly Budapest, plays an essential role in Central Europe's surge into the financial space. New centers of learning such as the Laboratory of Cryptography and System Security (CrySyS Lab) lend support to the many new startup ideas that are the chatter in every coffee shop, public house, and restaurant both sides of the Danube. Like the river itself, ideas ebb and flow around the bustling tech savvy city, and fintech startups are the talk of the town.
3. Romania
Another stop on the river Danube is Romania. Although there have been few success stories so far, Romania's financial technology sector is still nascent. However, initiatives like the Bucharest TechHub's Fintech Month supported by major companies and banks will go a long way to encourage startups and nurture a fintech community. Networks like TechHub provide the ideal ecosystem that foster innovation, and ensure that wily entrepreneurs get the backing they need. Investor cash, of course, plays a critical part in allowing ideas to take flight.
2. Czech Republic
The roughly 10.6 million people of Czechia have for too long remained economically under hyped. Ranked as one of the top countries in the world for internet speeds combined with its long history of scientific endeavors, the foundations are set for a technological growth spurt. The light above the bushel illuminates digital payment services like mobile POS payments & digital commerce, online crowdfunding (equity and reward based), robotic advisors and digitalized wealth management providers like peer to peer fintech platforms for business and personal loans.
1. Poland
It is not widely publicized, but Polish companies win award after award for innovation; scooping up silverware at events such as Finovate, that shine a light on pioneering banking tech. Unlike other markets, this disruption has come mainly from established banks, rather than from startups. 'In Poland, banks, not start-ups, do fintech,' says Aleksandra Sroka, principal in BCG Poland. Since the end of communist rule in 1989, Poland had just two retail banks, both of which were state-controlled. But recently, international banking groups like Deutsche Bank and new private Polish banks have entered the market, and the country is positioned to become increasingly attractive for financial technology companies, as a place to launch their business.