Eyenovia Shows Positive Phase 3 Results in Pupil Dilation Device
Edward Kim Follow |

An annual comprehensive eye exam is generally recommended for all people starting at age 60, according to the National Eye Institute of the NIH. African Americans are advised to start even earlier—starting at age 40—because of the higher risk of glaucoma. People with diabetes also should have a comprehensive exam at least annually because of the risk of developing diabetic retinopathy and the increased risk of glaucoma and other vision problems. Dilation of the pupil (mydriasis) is a critical part of any comprehensive eye exam, as it enables more light to enter the eye, providing the eye care professional with a better field of view and more clarity to examine the inside of the patient's eye.
Eyenovia
New York City based Eyenovia (EYEN) is developing therapies for myopia progression, glaucoma and other eye diseases using its high precision, piezo-print technology for microdosing. Microdosing enables fully effective therapies to be delivered to the patient while avoiding many tolerability and side-effect issues associated with traditional eye drop delivery. The company announced positive results yesterday from its Phase 3 study of its MicroStat fixed-combination micro-formulation of phenylephrine (2.5%) and tropicamide (1.0%) for pharmacologic mydriasis. Eyenovia is targeting MicroStat to address the growing needs of the estimated 80 million office-based comprehensive and diabetic eye exams performed each year in the US, as well as the estimated 4 million pharmacologic mydriasis applications in cataract surgery.
Source: Eyenovia
The Phase 3 "MIST-1" study involved 64 patients, in whom both eyes were treated on separate days with Eyenovia's proprietary MicroStat formulation of phenylephrine 2.5% + tropicamide 1% and compared against each component formulation. All treatments were administered using Eyenovia's OpteJet technology. The study met the primary endpoint of mean pupil dilation at 35 minutes post-administration, with the MicroStat treated group demonstrating a "statistically and clinically superior mydriatic effect as compared to either component formulation."
Additional outcomes demonstrated 94% of eyes achieved at least 6 mm of pupil dilation at 35 minutes post-administration, compared with 78% and 1.6% for the tropicamide-only and phenylephrine-only groups, respectively. At 20 minutes, 57% of the MicroStat-treated eyes achieved at least 6 mm of dilation vs 38% of the tropicamide treated eyes and none in the phenylephrine treated eyes.
We are excited with the results of the Phase 3 MIST-1 study. The MicroStat fixed-combination administered with the OpteJet delivered strong efficacy and was well tolerated by all subjects. We believe this is the first time in a Phase III FDA registration program that drugs have been delivered to the ocular surface using a smart microdose eyedropper-free delivery system – a meaningful step forward as we try to modernize the legacy eyedropper paradigm.

- Sean Ianchulev, MD, CEO and Chief Medical Officer, Eyenovia.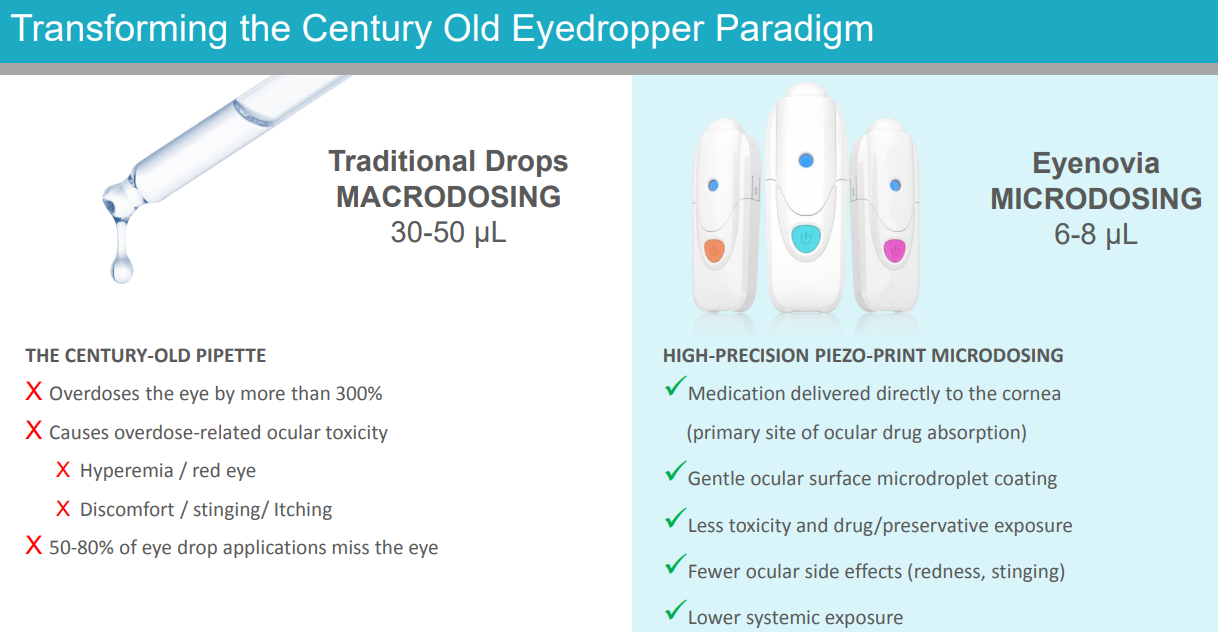 Source: Eyenovia

There are an estimated 80 million in-office exams performed each year in the United States requiring mydriasis, an integral part of comprehensive eye exams. Eyenovia's MIST-1 study results demonstrate that not only does MicroStat successfully induce significant pupil dilation, but it does so rapidly. We believe that having a fixed combination option to achieve mydriasis has the potential to streamline the in-office examination process, potentially increasing physician efficiency and patient through-put volume.

- David Wirta, MD, ophthalmologist and principal investigator of the MIST-1 study.
Pipeline
In addition to MicroStat for mydriasis, Eyenovia has additional Phase III initiations on the docket for 2019, including MicroPine for progressive myopia and MicroProst for chronic angle closure glaucoma. MicroTears, the company's our over-the-counter product candidate for dry eye, will not require Phase 3 trials, and Eyenovia plans to proceed with registration activities in this first half of 2019.
Source: Eyenovia

Investment issues to consider
Dr. Sean Ianchulev has been CEO, Chief Medical Officer and a member of Eyenovia's board since inception. From 2009 to 2016, he was chief medical officer and head of technology and business development for Transcend Medical, which was acquired in 2016 by Alcon, the unit that Novartis (NVS) is in the processing of spinning out to investors. Prior to that, while at Genentech (RHHBY), Dr. Ianchulev headed the ophthalmology research group and directed the development and FDA approval of Lucentis, Genentech's most successful ophthalmic drug.
Eyenovia went public in January 2018, selling 2.73 million shares at $10.00 via Ladenburg Thalmann and Roth Capital. The shares had traded down to a low of $2.40 just before Christmas before spiking on yesterday's news to as high as $4.20 before closing at $3.29. Volume yesterday was 5,925,500 shares, which eclipsed the total number of shares traded in the 235 previous trading days. It's currently trading at $3.41 in late Thursday trading, giving the company a market capitalization of just $38 million even after yesterday's rally. This valuation still seems light given the progress the company has made since it went public at a post-money market cap of just over $99 million.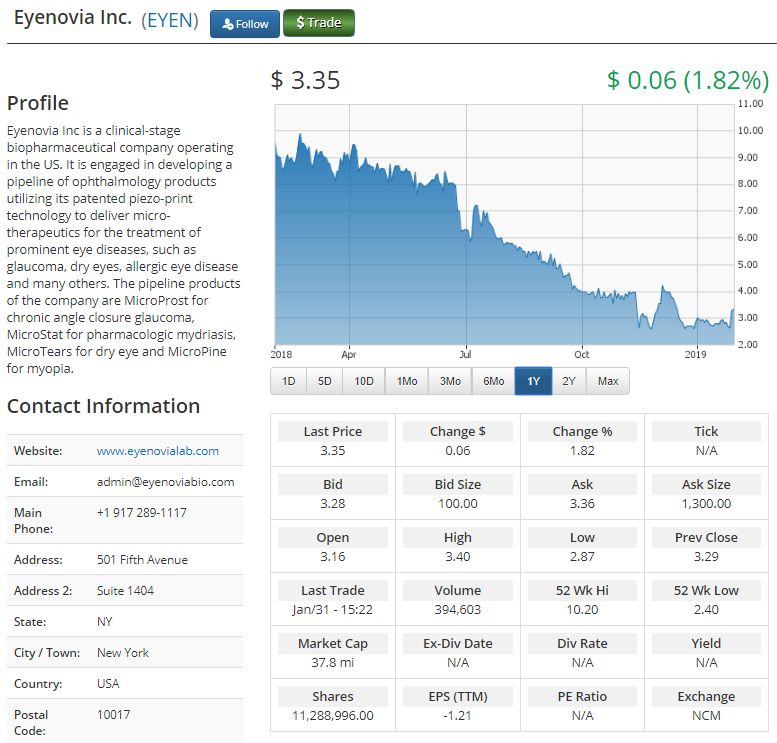 Please email us at content@equities.com to see our Case Studies and Testimonials.
Please click here for information on our trading platform.

Please click here to see our daily newsletter.
DISCLOSURE: The author holds no positions or any other beneficial interest in, and has not received any compensation from, the companies mentioned in this article.
DISCLOSURE: The author holds no positions or any other beneficial interest in, and has not received any compensation from, the companies mentioned in this article.

---
The views and opinions expressed in this article are those of the authors, and do not represent the views of equities.com. Readers should not consider statements made by the author as formal recommendations and should consult their financial advisor before making any investment decisions. To read our full disclosure, please go to: http://www.equities.com/disclaimer.
Companies